This Day in History, December 25, 6 B.C.
To early Christians (and to many Christians today), the most important holiday on the Christian calendar was Easter, which commemorates the death and resurrection of Jesus Christ. However, as Christianity began to take hold in the Roman world, in the early fourth century, church leaders had to contend with a popular Roman pagan holiday commemorating the "birthday of the unconquered sun" (natalis solis invicti)–the Roman name for the winter solstice.
Every winter, Romans honored the pagan god Saturn, the god of agriculture, with a festival that began on December 17 and usually ended on or around December 25 with a winter-solstice celebration in honor of the beginning of the new solar cycle. This festival was a time of merrymaking, and families and friends would exchange gifts. At the same time, Mithraism–worship of the ancient Persian god of light–was popular in the Roman army, and the cult held some of its most important rituals on the winter solstice.
After the Roman Emperor Constantine I converted to Christianity in 312 and sanctioned Christianity, church leaders made efforts to appropriate the winter-solstice holidays and thereby achieve a more seamless conversion to Christianity for the emperor's subjects. In rationalizing the celebration of Jesus' birthday in late December, church leaders may have argued that since the world was allegedly created on the spring equinox (late March), so too would Jesus have been conceived by God on that date. The Virgin Mary, pregnant with the son of God, would hence have given birth to Jesus nine months later on the winter solstice.
From Rome, the Christ's Nativity celebration spread to other Christian churches to the west and east, and soon most Christians were celebrating Christ's birth on December 25. To the Roman celebration was later added other winter-solstice rituals observed by various pagan groups, such as the lighting of the Yule log and decorations with evergreens by Germanic tribes. The word Christmas entered the English language originally as Christes maesse, meaning "Christ's mass" or "festival of Christ" in Old English. A popular medieval feast was that of St. Nicholas of Myra, a saint said to visit children with gifts and admonitions just before Christmas. This story evolved into the modern practice of leaving gifts for children said to be brought by "Santa Claus," a derivative of the Dutch name for St. Nicholas–Sinterklaas.
---
The Story of Saint Nicholas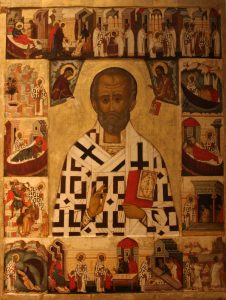 Born: 

March 15, 270 AD, Patara, Lycia, Turkey

Died: 

December 6, 343 AD, Myra, Turkey

Nationality: 

Greek

Buried: 

Basilica di San Nicola, Bari, Italy
The true story of Santa Claus begins with Nicholas, who was born during the third century in the village of Patara, city west of Myra (now Demre, Turkey). At the time the area was Greek and is now on the southern coast of Turkey. His wealthy parents, who raised him to be a devout Christian, died in an epidemic while Nicholas was still young. Obeying Jesus' words to "sell what you own and give the money to the poor," Nicholas used his whole inheritance to assist the needy, the sick, and the suffering. He dedicated his life to serving God and was made Bishop of Myra (City on the southern Mediterranean seacoast of what is now Turkey) while still a young man. Bishop Nicholas became known throughout the land for his generosity to those in need, his love for children, and his concern for sailors and ships.
Under the Roman Emperor Diocletian (AD 284-305), who ruthlessly persecuted Christians, Bishop Nicholas suffered for his faith, was exiled and imprisoned. The prisons were so full of bishops, priests, and deacons, there was no room for the real criminals—murderers, thieves and robbers. After his release, Nicholas attended the Council of Nicaea in AD 325, Council of Nicaea called to preserve unity of the church which was threatened by competing claims about the nature of Jesus Christ. He died December 6, AD 343 in Myra and was buried in his cathedral church, where a unique relic, called manna, formed in his grave. This liquid substance, said to have healing powers, fostered the growth of devotion to Nicholas. The anniversary of his death became a day of celebration, St. Nicholas Day, December 6th (December 19 on the Julian Calendar).
Through the centuries many stories and legends have been told of St. Nicholas' life and deeds. These accounts help us understand his extraordinary character and why he is so beloved and revered as protector and helper of those in need.
Miracles and other stories
One story tells of a poor man with three daughters. In those days a young woman's father had to offer prospective husbands something of value—a dowry. The larger the dowry, the better the chance that a young woman would find a good husband. Without a dowry, a woman was unlikely to marry. This poor man's daughters, without dowries, were therefore destined to be sold into slavery. Mysteriously, on three different occasions, a bag of gold appeared in their home-providing the needed dowries. The bags of gold, tossed through an open window, are said to have landed in stockings or shoes left before the fire to dry. This led to the custom of children hanging stockings or putting out shoes, eagerly awaiting gifts from Saint Nicholas. Sometimes the story is told with gold balls instead of bags of gold. That is why three gold balls, sometimes represented as oranges, are one of the symbols for St. Nicholas. And sometimes the story is told with coal dropped through the window landing in stockings left hanging by the fire to dry, Coal used to heat the home. So St. Nicholas is a gift-giver.
One of the oldest stories showing St. Nicholas as a protector of children takes place long after his death. The townspeople of Myra were celebrating the good saint on the eve of his feast day when a band of Arab pirates from Crete came into the district, Crete , the Largest Greek island and the 5th largest island in the Mediterranean Sea. They stole treasures from the Church of Saint Nicholas to take away as booty. As they were leaving town, they snatched a young boy, Basilios, to make into a slave. The emir, or ruler, selected Basilios to be his personal cupbearer, as not knowing the language, Basilios would not understand what the king said to those around him. So, for the next year Basilios waited on the king, bringing his wine in a beautiful golden cup. For Basilios' parents, devastated at the loss of their only child, the year passed slowly, filled with grief. As the next St. Nicholas' feast day approached, Basilios' mother would not join in the festivity, as it was now a day of tragedy. However, she was persuaded to have a simple observance at home—with quiet prayers for Basilios' safekeeping. Meanwhile, as Basilios was fulfilling his tasks serving the emir, he was suddenly whisked up and away. St. Nicholas appeared to the terrified boy, blessed him, and set him down at his home back in Myra. Imagine the joy and wonderment when Basilios amazingly appeared before his parents, still holding the king's golden cup. This is the first story told of St. Nicholas protecting children—which became his primary role in the West.
Another story tells of three theological students, traveling on their way to study in Athens. A wicked innkeeper robbed and murdered them, hiding their remains in a large pickling tub. It so happened that Bishop Nicholas, traveling along the same route, stopped at this very inn. In the night he dreamed of the crime, got up, and summoned the innkeeper. As Nicholas prayed earnestly to God the three boys were restored to life and wholeness. Anther story tells how during a terrible famine, a malicious butcher lured three little children into his house, where he killed them, placing their remains in a barrel to cure, planning to sell them off as ham. Nicholas, visiting the region to care for the hungry, not only saw through the butcher's horrific crime but also resurrected the three boys from the barrel by his prayers. Another version of this story, possibly formed around the 11th century, claims that the butcher's victims were instead three clerks who wished to stay the night. The man murdered them, and was advised by his wife to dispose of them by turning them into meat pies. The saint saw through this and brought the men back to life.
Several stories tell of Nicholas and the sea. When he was young, Nicholas sought the holy by making a pilgrimage to the Holy Land. There as he walked where Jesus walked, he sought to more deeply experience Jesus' life, passion, and resurrection. Returning by sea, a mighty storm threatened to wreck the ship. Nicholas calmly prayed. The terrified sailors were amazed when the wind and waves suddenly calmed, sparing them all. And so St. Nicholas is the patron of sailors and voyagers.
Other stories tell of Nicholas saving his people from famine, sparing the lives of those innocently accused, and much more. He did many kind and generous deeds in secret, expecting nothing in return. Within a century of his death he was celebrated as a saint. Today he is venerated in the East as wonder, or miracle worker and in the West as patron of a great variety of persons-children, mariners, bankers, pawn-brokers, scholars, orphans, laborers, travelers, merchants, judges, paupers, marriageable maidens, students, children, sailors, victims of judicial mistakes, captives, perfumers, even thieves and murderers! He is known as the friend and protector of all in trouble or need
Sailors, claiming St. Nicholas as patron, carried stories of his favor and protection far and wide. St. Nicholas chapels were built in many seaports. As his popularity spread during the Middle Ages, he became the patron saint of Apulia (Italy), Sicily, Greece, and Lorraine (France), and many cities in Germany, Austria, Switzerland, Italy, Russia, Belgium, and the Netherlands (see list). Following his baptism, Grand Prince Vladimir I brought St. Nicholas' stories and devotion to St. Nicholas to his homeland where Nicholas became the most beloved saint. Nicholas was so widely revered that thousands of churches were named for him, including three hundred in Belgium, thirty-four in Rome, twenty-three in the Netherlands and more than four hundred in England.
Nicholas' tomb in Myra became a popular place of pilgrimage. Because of the many wars and attacks in the region, some Christians were concerned that access to the tomb might become difficult. For both the religious and commercial advantages of a major pilgrimage site, the Italian cities of Venice and Bari vied to get the Nicholas relics. In the spring of 1087, sailors from Bari succeeded in spiriting away the bones, bringing them to Bari, a seaport on the southeast coast of Italy. An impressive church was built over St. Nicholas' crypt and many faithful journeyed to honor the saint who had rescued children, prisoners, sailors, famine victims, and many others through his compassion, generosity, and the countless miracles attributed to his intercession. The Nicholas shrine in Bari was one of medieval Europe's great pilgrimage centers and Nicholas became known as "Saint in Bari." To this day pilgrims and tourists visit Bari's great Basilica di San Nicola.
Through the centuries St. Nicholas has continued to be venerated by Catholics and Orthodox and honored by Protestants. By his example of generosity to those in need, especially children, St. Nicholas continues to be a model for the compassionate life.
Widely celebrated in Europe, St. Nicholas' feast day, December 6th, kept alive the stories of his goodness and generosity. In Germany and Poland, boys dressed as bishops begged alms for the poor—and sometimes for themselves! In the Netherlands and Belgium, St. Nicholas arrived on a steamship from Spain to ride a white horse on his gift-giving rounds. December 6th is still the main day for gift giving and merrymaking in much of Europe. For example, in the Netherlands St. Nicholas is celebrated on the 5th, the eve of the day, by sharing candies (thrown in the door), chocolate initial letters, small gifts, and riddles. Dutch children leave carrots and hay in their shoes for the saint's horse, hoping St. Nicholas will exchange them for small gifts. Simple gift-giving in early Advent helps preserve a Christmas Day focus on the Christ Child.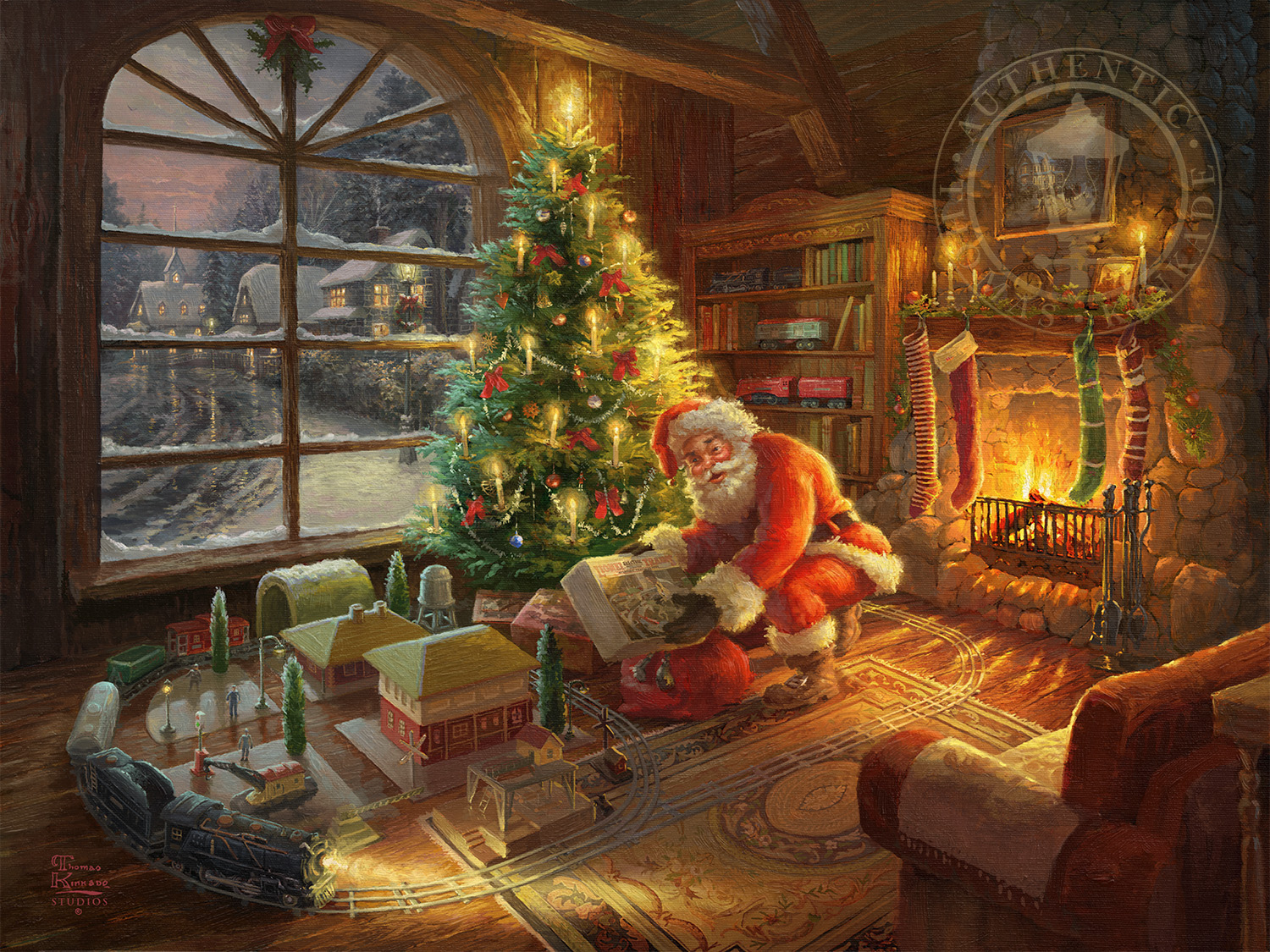 The Origin of Santa Claus
Santa Claus, also known as Saint Nicholas, Saint Nick, Kris Kringle, Father Christmas, or simply Santa, is a legendary figure originating in Western Christian culture who is said to bring gifts to the homes of well-behaved ("good" or "nice") children on Christmas Eve  and the early morning hours of Christmas Day. The modern Santa Claus grew out of traditions surrounding the historical Saint Nicholas, the British figure of Father Christmas and the Dutch figure of Sinterklaas also based on Saint Nicholas.
Santa Claus is generally depicted as a portly, joyous, white-bearded man—sometimes with spectacles—wearing a red coat with white fur collar and cuffs, white-fur-cuffed red trousers, and black leather belt and boots and who carries a bag full of gifts for children. This image became popular in the United States and Canada in the 19th century due to the significant influence of the 1823 poem "A Visit from St. Nicholas". This image has been maintained and reinforced through song, radio, television, children's books, films, and advertising.
Santa Claus is said to make lists of children throughout the world, categorizing them according to their behavior ("good" and "bad", or "naughty" and "nice") and to deliver presents, including toys, and candy to all of the well-behaved children in the world, and coal to all the misbehaved children, on the single night of Christmas Eve. He accomplishes this feat with the aid of his elves, who make the toys in his workshop at the North Pole, and his flying reindeer, who pull his sleigh. He is commonly portrayed as living at the North Pole and saying "ho ho ho" often.
Image of Santa
In 1821, the book A New-year's present, to the little ones from five to twelve was published in New York. It contained Old Santeclaus with Much Delight, an anonymous poem describing Santeclaus on a reindeer sleigh, bringing presents to children. Some modern ideas of Santa Claus seemingly became canon after the anonymous publication of the poem "A Visit From St. Nicholas" (better known today as "The Night Before Christmas") in the Troy, New York, Sentinel on 23 December 1823. St. Nick is described as being "chubby and plump, a right jolly old elf" with "a little round belly", that "shook when he laughed like a bowlful of jelly", in spite of which the "miniature sleigh" and "tiny reindeer" still indicate that he is physically diminutive. The reindeer were also named: Dasher, Dancer, Prancer, Vixen, Comet, Cupid, Dunder and Blixem (Dunder and Blixem came from the old Dutch words for thunder and lightning, which were later changed to the more German sounding Donner and Blitzen).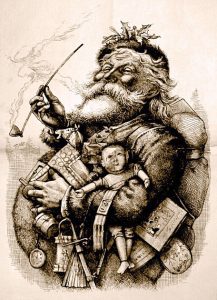 By 1845 'Kris Kringle' was a common variant of Santa in parts of the U.S. A magazine article from 1853, describing American Christmas customs to British readers, refers to children hanging up their stockings on Christmas Eve for 'a fabulous personage' whose name varies: in Pennsylvania he is usually called 'Krishkinkle' but in New York he is 'St. Nicholas' or 'Santa Claus'.
As the years passed, Santa Claus evolved in popular culture into a large, heavyset person. One of the first artists to define Santa Claus's modern image was Thomas Nast, an American cartoonist of the 19th century. In 1863, a picture of Santa illustrated by Nast appeared in Harper's Weekly.
Thomas Nast immortalized Santa Claus with an illustration for the 3 January 1863 issue of Harper's Weekly. Santa was dressed in an American flag, and had a puppet with the name "Jeff" written on it, reflecting its Civil War context. The story that Santa Claus lives at the North Pole may also have been a Nast creation. His Christmas image in the Harper's issue dated 29 December 1866 was a collage of engravings titled Santa Claus and His Works, which included the caption "Santa Claussville, N.P." A color collection of Nast's pictures, published in 1869, had a poem also titled "Santa Claus and His Works" by George P. Webster, who wrote that Santa Claus's home was "near the North Pole, in the ice and snow". The tale had become well known by the 1870s. A boy from Colorado writing to the children's magazine The Nursery in late 1874 said, "If we did not live so very far from the North Pole, I should ask Santa Claus to bring me a donkey."
The idea of a wife for Santa Claus may have been the creation of American authors, beginning in the mid-19th century. In 1889, the poet Katharine Lee Bates popularized Mrs. Claus in the poem "Goody Santa Claus on a Sleigh Ride".
"Is There a Santa Claus?" was the title of an editorial appearing in the 21 September 1897 edition of The New York Sun. The editorial, which included the famous reply "Yes, Virginia, there is a Santa Claus", has become an indelible part of popular Christmas lore in the United States and Canada.
L. Frank Baum's The Life and Adventures of Santa Claus, a 1902 children's book, further popularized Santa Claus. Much of Santa Claus's mythos was not set in stone at the time, leaving Baum to give his "Neclaus" (Necile's Little One) a wide variety of immortal support, a home in the Laughing Valley of Hohaho, and ten reindeer—who could not fly, but leapt in enormous, flight-like bounds. Claus's immortality was earned, much like his title ("Santa"), decided by a vote of those naturally immortal. This work also established Claus's motives: a happy childhood among immortals. When Ak, Master Woodsman of the World, exposes him to the misery and poverty of children in the outside world, Santa strives to find a way to bring joy into the lives of all children, and eventually invents toys as a principal means. Santa later appears in The Road to Oz as a honored guest at Ozma's birthday party, stated to be famous and beloved enough for everyone to bow even before he is announced as "The most Mighty and Loyal Friend of Children, His Supreme Highness – Santa Claus".
Images of Santa Claus were further popularized through Haddon Sundblom's depiction of him for The Coca-Cola Company's Christmas advertising in the 1930s. The popularity of the image spawned urban legends that Santa Claus was invented by The Coca-Cola Company or that Santa wears red and white because they are the colors used to promote the Coca-Cola brand. Historically, Coca-Cola was not the first soft drink company to utilize the modern image of Santa Claus in its advertising—White Rock Beverages had already used a red and white Santa to sell mineral water in 1915 and then in advertisements for its ginger ale in 1923. Earlier still, Santa Claus had appeared dressed in red and white and essentially in his current form on several covers of Puck magazine in the first few years of the 20th century.
The image of Santa Claus as a benevolent character became reinforced with its association with charity and philanthropy, particularly by organizations such as the Salvation Army. Volunteers dressed as Santa Claus typically became part of fundraising drives to aid needy families at Christmas time. In 1937, Charles W. Howard, who played Santa Claus in department stores and parades, established the Charles W. Howard Santa School, the oldest continuously-run such school in the world. In some images from the early 20th century, Santa was depicted as personally making his toys by hand in a small workshop like a craftsman. Eventually, the idea emerged that he had numerous elves responsible for making the toys, but the toys were still handmade by each individual elf working in the traditional manner. The 1956 popular song by George Melachrino, "Mrs. Santa Claus", and the 1963 children's book How Mrs. Santa Claus Saved Christmas, by Phyllis McGinley, helped standardize and establish the character and role of Mrs. Claus in the popular imagination. Seabury Quinn's 1948 novel Roads draws from historical legends to tell the story of Santa and the origins of Christmas. Other modern additions to the "story" of Santa include Rudolph the Red-Nosed Reindeer, the 9th and lead reindeer immortalized in a Gene Autry song, written by a Montgomery Ward copywriter.
Santa's Chimney Tradition
The tradition of Santa Claus entering dwellings through the chimney is shared by many European seasonal gift-givers. In the Italian Befana tradition, the gift-giving witch is perpetually covered with soot from her trips down the chimneys of children's homes. In the tale of Saint Nicholas, the saint tossed coins through a window, and, in a later version of the tale, down a chimney when he finds the window locked. In Dutch artist Jan Steen's painting, The Feast of Saint Nicholas, adults and toddlers are glancing up a chimney with amazement on their faces while other children play with their toys. The hearth was held sacred in primitive belief as a source of beneficence, and popular belief had elves and fairies bringing gifts to the house through this portal. Santa's entrance into homes on Christmas Eve via the chimney was made part of American tradition through the poem "A Visit from St. Nicholas" where the author described him as an elf.
Santa's Other Traditions
In the United States and Canada, children traditionally leave Santa a glass of milk and a plate of cookies; in Britain and Australia, he is sometimes given sherry or beer, and mince pies instead. In Denmark, Norway and Sweden, it is common for children to leave him rice porridge with cinnamon sugar instead. In Ireland it is popular to give him Guinness or milk, along with Christmas pudding or mince pies.
In Hungary, St. Nicolaus (Mikulás) comes on the night of 5 December and the children get their gifts the next morning. They get sweets in a bag if they were good, and a golden colored birch switch if not. On Christmas Eve "Little Jesus" comes and gives gifts for everyone.
In Slovenia, Saint Nicholas (Miklavž) also brings small gifts for good children on the eve of 6 December. Božiček (Christmas Man) brings gifts on the eve of 25 December, and Dedek Mraz (Grandfather Frost) brings gifts in the evening of 31 December to be opened on New Years Day.
New Zealander, British, Australian, Irish, Canadian, and American children also leave a carrot for Santa's reindeer, and were traditionally told that if they are not good all year round, that they will receive a lump of coal in their stockings, although this practice is now considered archaic. Children following the Dutch custom for sinterklaas will "put out their shoe" (leave hay and a carrot for his horse in a shoe before going to bed, sometimes weeks before the sinterklaas avond). The next morning they will find the hay and carrot replaced by a gift; often, this is a marzipan figurine. Naughty children were once told that they would be left a roe (a bundle of sticks) instead of sweets, but this practice has been discontinued.
Other Christmas Eve Santa Claus rituals in the United States include reading A Visit from St. Nicholas or other tale about Santa Claus, watching a Santa or Christmas-related animated program on television (such as the aforementioned Santa Claus Is Comin' to Town and similar specials, such as Rudolph the Red-Nosed Reindeer, among many others), and the singing of Santa Claus songs such as "Santa Claus Is Coming to Town", "Here Comes Santa Claus", and "Up on the House Top". Last minute rituals for children before going to bed include aligning stockings at the mantelpiece or other place where Santa cannot fail to see them, peeking up the chimney (in homes with a fireplace), glancing out a window and scanning the heavens for Santa's sleigh, and (in homes without a fireplace) unlocking an exterior door so Santa can easily enter the house. Tags on gifts for children are sometimes signed by their parents "From Santa Claus" before the gifts are laid beneath the tree.
Letter writing to Santa
Writing letters to Santa Claus has been a Christmas tradition for children for many years. These letters normally contain a wishlist of toys and assertions of good behavior. Some social scientists have found that boys and girls write different types of letters. Girls generally write longer but more polite lists and express the nature of Christmas more in their letters than in letters written by boys. Girls also more often request gifts for other people.. A letter to Santa is often a child's first experience of correspondence. Written and sent with the help of a parent or teacher, children learn about the structure of a letter, salutations, and the use of an address and postcode.
Santa' Home
Santa Claus's home traditionally includes a residence and a workshop where he creates—often with the aid of elves or other supernatural beings—the gifts he delivers to good children at Christmas. Some stories and legends include a village, inhabited by his helpers, surrounding his home and shop. In North American tradition (in the United States and Canada), Santa lives on the North Pole.  There is also a city named North Pole in Alaska where a tourist attraction known as the "Santa Claus House" has been established.
Each Nordic country claims Santa's residence to be within their territory. Norway claims he lives in Drøbak. In Denmark, he is said to live in Greenland (near Uummannaq). In Sweden, the town of Mora has a theme park named Tomteland. The national postal terminal in Tomteboda in Stockholm receives children's letters for Santa. In Finland, Korvatunturi has long been known as Santa's home. In Belarus there is a home of Ded Moroz in Belovezhskaya Pushcha National Park.
---
Father Christmas
Father Christmas dates back as far as 16th century in England during the reign of Henry VIII, when he was pictured as a large man in green or scarlet robes lined with fur He typified the spirit of good cheer at Christmas, bringing peace, joy, good food and wine and revelry. As England no longer kept the feast day of Saint Nicholas on 6 December, the Father Christmas celebration was moved to 25 December to coincide with Christmas Day. The Victorian revival of Christmas included Father Christmas as the emblem of 'good cheer'. His physical appearance was variable, with one famous image being John Leech's illustration of the "Ghost of Christmas Present" in Charles Dickens's festive classic A Christmas Carol (1843), as a great genial man in a green coat lined with fur who takes Scrooge through the bustling streets of London on the current Christmas morning, sprinkling the essence of Christmas onto the happy populace.
---
Sinterklaas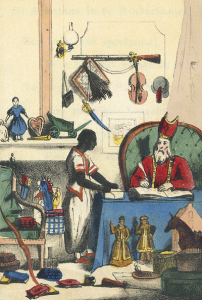 Santa Claus evolved from Dutch traditions regarding Saint Nicholas (Sinterklaas). When the Dutch established the colony of New Amsterdam, they brought the legend and traditions of Sinterklaas with them.
Sinterklaas is based on the historical figure of Saint Nicholas. He is depicted as an elderly, stately and serious man with white hair and a long, full beard. He wears a long red cape or chasuble over a traditional white bishop's alb and sometimes red stola, dons a red mitre and ruby ring, and holds a gold-coloured crosier, a long ceremonial shepherd's staff with a fancy curled top. He traditionally rides a white horse. In the Netherlands, the horse is called Amerigo, and in Belgium, it is named Slecht Weer Vandaag, meaning "Bad Weather Today". Sinterklaas carries a big, red book in which is written whether each child has been good or naughty in the past year.
Sinterklaas is assisted by many mischievous helpers with black faces and colourful Moorish dresses. These companions are called Zwarte Piet ("Black Pete"). Zwarte Piet first appeared in print as the nameless servant of Saint Nicholas in Sint-Nikolaas en zijn knecht ("St. Nicholas and His Servant/Apprentice"), published in 1850 by Amsterdam schoolteacher Jan Schenkman; however, the tradition appears to date back at least as far as the early 19th Century.
Zwarte Piet's colourful dress is based on 16th-century noble attire, with a ruff (lace collar) and a feathered cap. He is typically depicted carrying a bag which contains candy for the children. The Zwarte Pieten toss their candy around, a tradition supposedly originating in the story of Saint Nicholas saving three young girls from prostitution by tossing golden coins through their window at night to pay their dowries.
Traditionally, he would also carry a birch rod (Dutch: roe), a chimney sweep's broom made of willow branches, used to spank children who had been naughty. Some of the older Sinterklaas songs make mention of naughty children being put in Zwarte Piet's bag and being taken back to Spain. This part of the legend refers to the times that the Moors raided the European coasts, and as far as Iceland, to abduct the local people into slavery. This quality can be found in other companions of Saint Nicholas such as Krampus and Père Fouettard. In modern versions of the Sinterklaas feast, however, Zwarte Piet no longer carries the roe and children are no longer told that they will be taken back to Spain in Zwarte Piet's bag if they have been naughty.
The feast of Sinterklaas celebrates the name day of Saint Nicholas on 6 December. The feast is celebrated annually with the giving of gifts on St. Nicholas' Eve (5 December) in the northern parts of the Netherlands and on the morning of 6 December, Saint Nicholas Day, in the southern provinces of the Netherlands, as well as Belgium, Luxembourg and northern France (French Flanders, Lorraine and Artois).
The Sinterklaasfeest arose during the Middle Ages. The feast was both an occasion to help the poor, by putting money in their shoes (which evolved into putting presents in children's shoes) and a wild feast, similar to Carnival, that often led to costumes, a "topsy-turvy" overturning of daily roles, and mass public drunkenness.
In early traditions, students elected one of their classmates as "bishop" on St. Nicholas Day, who would rule until 28 December (Innocents Day), and they sometimes acted out events from the bishop's life. As the festival moved to city streets, it became more lively
During the Reformation in 16th-17th-century Europe, many Protestants and others changed the gift bringer to the Christ Child or Christkindl, and the date for giving gifts changed from 6 December to Christmas Eve.
After the rebellion of the Dutch provinces against the Spanish Empire, Calvinist regents and ministers prohibited celebration of the Saint. The Republic of the United Provinces officially became an Protestant country and abolished public celebrations. The South, however, remained Catholic. People there and students in Amsterdam, which also contained a significant Catholic population, protested. The government eventually allowed private family celebration of Saint Nicholas' Day.
In the 19th century, the saint emerged from hiding and became more secularized at the same time. The modern tradition of Sinterklaas as a children's feast was likely confirmed with the illustrated children's book Sint-Nicolaas en zijn knecht ('Saint Nicholas and his servant'), written in 1850 by the teacher Jan Schenkman (1806–1863). Some say he introduced the images of Sinterklaas' delivering presents by the chimney, riding over the roofs of houses on a grey horse, and arriving from Spain by steamboat, which at that time was an exciting modern invention.
Sinterklaas as a source for Santa Claus
Sinterklaas is the basis for the North American figure of Santa Claus. It is often claimed that during the American War of Independence, the inhabitants of New York City, a former Dutch colonial town (New Amsterdam), reinvented their Sinterklaas tradition, as Saint Nicholas was a symbol of the city's non-English past. In the 1770s the New York Gazetteer noted that the feast day of "St. a Claus" was celebrated, by the descendants of the ancient Dutch families, with their usual festivities. The tradition of celebrating Sinterklaas in New York existed in the early settlement of the Hudson Valley, by the time the revival of St. Nicholas came with Washington Irving, the traditional New Netherlands observance had completely disappeared. However, Irving's stories prominently featured legends of the early Dutch settlers, so while the traditional practice may have died out, Irving's St. Nicholas may have been a revival of that dormant Dutch strand of folklore. In his 1812 revisions to A History of New York, Irving inserted a dream sequence featuring St. Nicholas soaring over treetops in a flying wagon – a creation others would later dress up as Santa Claus.
In New York, two years earlier John Pintard published a pamphlet with illustrations of Alexander Anderson in which he calls for making Saint Nicholas the patron Saint of New York and starting a Sinterklaas tradition. He was apparently assisted by the Dutch because in his pamphlet he included an old Dutch Sinterklaas poem with an English translation. In the Dutch poem, Saint Nicholas is referred to as 'Sancta Claus'. Ultimately, his initiative helped Sinterklaas to pop up as Santa Claus in the Christmas celebration, which returned – freed of episcopal dignity and ties – via England and later Germany to Europe again.
During the Reformation in 16th-17th-century Europe, many Protestants changed the gift bringer from Sinterklaas to the Christ Child or Christkindl (corrupted in English to Kris Kringle). Similarly, the date of giving gifts changed from 5 or 6 December to Christmas Eve
By 1845 'Kris Kringle' was a common variant of Santa in parts of the U.S. A magazine article from 1853, describing American Christmas customs to British readers, refers to children hanging up their stockings on Christmas Eve for 'a fabulous personage' whose name varies: in Pennsylvania he is usually called 'Krishkinkle' but in New York he is 'St. Nicholas' or 'Santa Claus'.
---
Photo Gallery
---
Source for this Information compiled from: St. Nicholas Center, Wikipedia, History Channel, Google Images
advertisement

---
---