Boats can be categorized into three main types:
Unpowered or human-powered boats. Unpowered boats include rafts and floats meant for one-way downstream travel. Human-powered boats include canoes, kayaks, gondolas and boats propelled by poles like a punt.
Sailboats, which are propelled solely by means of sails.
Motorboats, which are propelled by mechanical means, such as engines.
A floating boat displaces its weight in water. The material of the boat hull may be denser than water, but if this is the case then it forms only the outer layer. If the boat floats, the mass of the boat (plus contents) as a whole divided by the volume below the waterline is equal to the density of water (1 kg/l). If weight is added to the boat, the volume below the waterline will increase to keep the weight balance equal, and so the boat sinks a little to compensate.
---
| | |
| --- | --- |
| | Intermarine 55 is the first in a new era yachts, collaborated with BMW Group DesignworksUSA to create the elegant, powerful and refined yacht, available in Summer 2011 |
| | SWATH ships exceptional stability in high seas. This is accomplished by placing most of the ship's displacement below the level of the waves where all the kinetic energy of the sea surface is located. |
| | Royal Denship 82′ Open Power Cruisers  is winner of the International Super Yacht Design Award. designed to maximize both pleasure and performance, inside and out |
| | Royal Denship 258 ocean-going yacht. The impressive steel yacht has six elegantly appointed decks, and features a floodable stern garage and sub-mersible stern platform. |
| | Bluewater Yachts 5900 Platinumavailable with either two or three staterooms, plans provide more then 520 square feet of headroom in the living area alone |
Boating Archives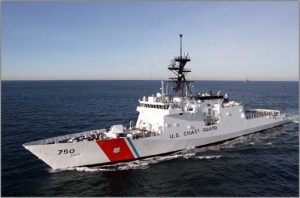 The U.S. Coast Guard uses a variety of platforms to conduct its daily business. Cutters and small boats are used on the water and fixed and rotary wing (helicopters) aircraft are used in the air.
A "Cutter" is basically any CG vessel 65 feet in length or greater, having adequate accommodations for crew to live on board. Larger cutters (over 180 feet in length) are under control of Area Commands (Atlantic Area or Pacific Area). Cutters at or under 180 feet in length come under control of District Commands. Cutters, usually have a motor surf boat and/or a rigid hull inflatable boat on board. Polar Class icebreakers also carry an Arctic Survey Boat (ASB) and Landing Craft.
(Approximately 1400 – number fluctuates). All vessels under 65 feet in length are classified as boats and usually operate near shore and on inland waterways. Craft include: Motor Lifeboats; Motor Surf Boats; Large Utility Boats; Surf Rescue Boats; Port Security Boats; Aids to Navigation Boats; and a variety of smaller, non-standard boats including Rigid Inflatable Boats. Sizes range from 64 feet in length down to 12 feet.
There are a total of 211 aircraft in CG inventory. This figure fluctuates operationally due to maintenance schedules. Major Missions: Search/Rescue, Law Enforcement, Environmental Response, Ice Operations, and Air Interdiction. Fixed-wing aircraft (C-130 Hercules turboprops and HU-25 Falcon jets) operate from large and small Air Stations. Rotary wing aircraft (HH-65 Dolphin and HH-60 Jayhawk helicopters) operate from flight-deck equipped Cutters, Air Stations and Air Facilities.
---
advertisement

---
---