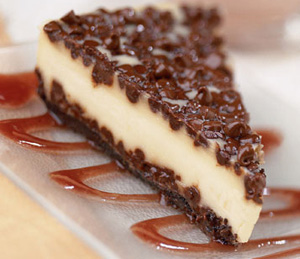 Chocolate Chip Cheesecake
Mini chocolate morsels dot this creamy, luscious cheesecake. A winning dessert that will please the eyes as well as the tastebuds.
Estimated Times:
Preparation – 20 min
Cooking – 55 min
Cooling Time – 2 hrs refrigerating
Yields – 14
CRUST
1 1/2 cups crushed chocolate sandwich cookies (about 15)
2 tablespoons butter or margarine, melted
2 cups (12-oz. pkg.) NESTLÉ® TOLL HOUSE® Semi-Sweet Chocolate Mini Morsels, divided
FILLING
2 pkgs. (8 oz. each) cream cheese, softened
1/2 cup granulated sugar
1 tablespoon vanilla extract
2 large eggs
2 tablespoons all-purpose flour
3/4 cup NESTLÉ® CARNATION® Evaporated Milk
1/2 cup sour cream
Directions:
PREHEAT oven to 300° F.
COMBINE cookie crumbs with butter in medium bowl until moistened; press onto bottom of ungreased 9-inch springform pan. Sprinkle with 1 cup morsels.
BEAT cream cheese, sugar and vanilla extract in large mixer bowl until smooth. Beat in eggs and flour. Gradually beat in evaporated milk and sour cream. Pour over crust. Sprinkle with remaining morsels.
BAKE for 25 minutes. Cover loosely with foil.
BAKE for an additional 30 to 40 minutes or until edge is set but center still moves slightly. Place in refrigerator immediately; refrigerate for 2 hours or until firm. Remove side of springform pan.
NOTE: Cheesecake may be baked in 13 x 9-inch baking pan. Prepare as above. Bake in preheated 300° F. oven for 20 minutes. Cover loosely with foil. Bake for an additional 20 to 30 minutes.
Nutritional Information – Chocolate Chip Cheesecake
Nutrition Facts
Serving Size: 1/14 of recipe
Servings per Recipe: 14
Amount per serving
Calories: 430
Calories from Fat: 263
% Daily Value
Total Fat: 29.2g
45%
Saturated Fat: 16g
80%
Cholesterol: 91mg
30%
Sodium: 224mg
9%
Carbohydrates: 37.7g
12%
Dietary Fiber: .4g
2%
Sugars: 22.3g
Protein: 5.9g
Vitamin A
16%
Vitamin C
0%
Calcium
12%
Iron
11%
* Percent Daily Values are based on a 2000 calorie diet
Disclaimer: You should consult a physician in all matters relating to health before making any significant lifestyle or dietary changes. The information contained in or made available through this site is intended to help you make informed decisions about your health, not to replace or substitute for the services of trained health professionals.
The nutrition information provided for each recipe is determined by a database analysis using the ESHA Genesis R&D program. Nutrition information is based on the ingredients and cooking techniques as listed in the recipe, and does not include optional ingredients and cooking techniques as listed in the recipe, and does not include optional ingredients or garnishes. Nutritional values represented are composite averages and may vary according to freshness, variety or differences in preparation. Altering cooking methods or substituting any ingredients may change the posted nutrition information significantly.
advertisement

---
---