French Toast
A delicious breakfast tradition developed in 16th century France!
Items Needed: (for 2 to 4 servings)
2 large eggs
1/3 cup milk
1 tablespoon sugar
1/2 teaspoon vanilla
1/4 teaspoon cinnamon
4 slices of bread of your choice
In a shallow dish, beat together eggs, milk, sugar, vanilla and cinnamon until well blended.
Heat a buttered skillet (1 tablespoon butter) over medium heat until just hot enough to sizzle a drop of water.
One slice at a time, dip bread in egg mixture on each side.
Place bread in hot pan, cook on both sides about 4 minutes or until golden brown, and no visible liquid egg remains.
Serve immediatly. Syrup, fresh fruit slices, and confectioners powdered sugar sprinkled on top are an option.
Golden Delight Pancakes
"In a frazzle in the morning to make breakfast for everyone? Try these!…a incredible 'Made From Scratch' pancake!"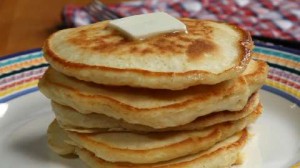 Ingredients:
1 cup cottage cheese
6 eggs
1/2 cup flour
1/4 teaspoon salt
1/4 cup vegetable oil
1/4 cup milk
1/2 teaspoon vanilla
Place all ingredients in a blender adn blend 1 minute. Grill about 1/4 cup batter for each pancake on a griddle sprayed wtih cooking spray or coated with vegetable oil (and warmed up to cooking temperature).
Serve with your favorite pancake toppings.
advertisement

---
---