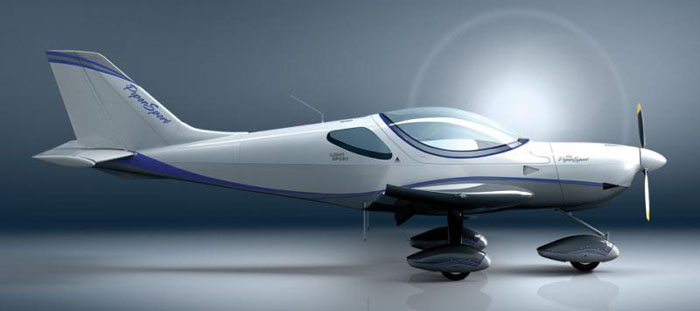 2010 PiperSport
The PiperSport is a World-Class, Entry-Level Aircraft in the Light Sport Aviation Segment Offering Performance, Luxury, and Value for Money
Piper Aircraft, Inc. announced details and unveiled its all-new PiperSport, underscoring its foray into the Light Sport Aviation segment with a world-class aircraft that speaks to Piper's heritage in bringing seminal, entry-level airplanes to market while offering features and performance normally found in more expensive, high-end aircraft.
Piper President & CEO Kevin J. Gould made the announcement during a news conference held at the Sebring U.S. Sport Aviation Expo 2010.
"With the PiperSport," Gould said, "Piper is entering what is undeniably one of the most exciting market segments in general aviation. This burgeoning segment is becoming vital to our industry and playing an ever-increasing role in developing general aviation's next generation of pilots. The PiperSport is an amazing entry-level aircraft that will bring new customers into Piper and lead the way for those customers to step up into more sophisticated and higher performance aircraft within our line over time. Moreover, as the only aircraft manufacturer to have models in every market segment, Piper continues to expand its business model to ensure that we are in tune with the times and that we meet the needs of our customers at every level."
The PiperSport, manufactured under a licensing agreement with Czech Sport Aircraft (CSA) and distributed through Piper's master distributor, PiperSport Distribution, Inc., is immediately available for sale, with first deliveries scheduled for April.
The PiperSport features a rate of climb of 1,200 feet per minute and is capable of reaching a maximum cruise speed of 138 miles per hour and an altitude of 10,000 feet. The aircraft has a gross weight of 1,320 pounds and 600 pounds of useful load. With the ability to run on automotive fuel, the PiperSport's 30-gallon fuel capacity gives the aircraft a range of 600 nautical miles and the ability to refuel virtually anywhere in the world that offers either 100LL or premium, unleaded automotive fuel.
There are three variants of the aircraft: The PiperSport, which sells for $119,900; the PiperSport LT (primarily a training model), which sells for $129,900; and the PiperSport LTD (professional model), which sells for $139,900. Each model features the latest in luxury – from leather seats to cutting-edge design – and is equipped with a 100-hp Rotax 912 engine and a BRS complete aircraft parachute recovery system. Each model also features the same gross weight, speed, fuel capacity, and range.
As to specific models, the PiperSport includes:
• Dynon D100 Flight Display
• Garmin 495 GPS
• Garmin SL40 Nav/Com
• Garmin GTX 328 Transponder
• Ameriking ELT
• PS Engineering PM3000 Intercom
In addition to the equipment that the base model PiperSport includes, the PiperSport LT substitutes the Dynon D120 Engine Monitoring system for the PiperSport's analog display, and the top-of-the-line PiperSport LTD also features the Dynon AP74/HS34 autopilot.
Gould underscored Piper's heritage in light aircraft and pointed out that that CSA – Piper's supplier – is a leader in the LSA industry. He added that the PiperSport models build on CSA's excellent products and reputation with added features specifically for the PiperSport.
"Piper's heritage dates from what was one of the original 'LSA' aircraft of its time: the venerable Piper Cub," Gould said. "Consequently, Piper is in many ways returning to a market segment we played an integral role in inventing … but with all the modern, state-of-the-art elements that our customers expect today, from design and manufacturing to performance, avionics and reliability.