Puntarenas Province
Puntarenas is a province of Costa Rica. It is located in the western part of the country, covering most of Costa Rica's Pacific Ocean coast, and it is the largest province in Costa Rica. Clockwise from the northwest it borders on the provinces Guanacaste, Alajuela, San José and Limón, and the neighbouring country of Panama. In the province's interior, the highland communities of Santa Elena and Monteverde are gateways to the vast Monteverde Cloud Forest Reserve. This misty tropical forest is known for its rich biodiversity, trails, suspension bridges and eco-lodges. On the coast, the provincial capital Puntarenas is a peninsular port city.

Jacó
Jacó is a coastal city in the county of Garabito in Costa Rica's Puntarenas province. Located in the Central Pacific Region, on the pacific coast of Costa Rica. Jacó is approximately two hours from San José and one hour North of Manuel Antonio National Park.
Jacó lies between several mountains, and is neighbored by the beaches of Herradura Bay to the North, and Playa Hermosa to the South. At about 15 miles north of Jacó, lies the Carara National Park, recognized for it´s exuberant wildlife and dense rain forest. Carara is home to one of the largest remaining populations of wild Scarlet Macaw in the country.
Jacó has quickly grown to become an important tourist destination and can be considered one of the country's most developed coastal cities. Its natural beauty, proximity to San Jose, and the challenging surf attracts many international and local tourists. Jacó hosts many high quality hotels and restaurants. As well as several bars, nightclubs and discos, which make up Jaco's very active night life.
Los Suenos Resort
All information you need about Costa Rica luxury vacations at Los Suenos Resort. Combines the large space and luxury of private residences, with the services of a five star hotel: daily cleaning, front desk, premium concierge 24/7, 365 days a year, and more. Vacation activities, accommodation in villas and condos, sport fishing, tours and golf course. Los Suenos Resort provides luxury vacations rentals in Los Sueños Resort and Marina, located only 75 minutes from the airport and San José.
Choose from spacious 1 to 3 bedroom condominiums, or 3 to 8 bedroom private home. All properties are fully equipped with gourmet kitchen, laundry, terrace, high speed wi-fi internet and central a/c. Enjoy features as private pool and gym, stunning views to the ocean, tropical forest or golf course. World-class amenities of Los Sueños includes: Beach Club, Golf course, Marina Village with spa, restaurants and bars. Stay in Costa Rica are based in Costa Rica and offer: Vacation Rentals – Property Management -at Los Sueños Resort and Marina.
Los Suenos Resort Amenities
With its 200-slip international marina, spectacular view properties, private beach club, challenging 18-hole eco-golf course, four-star Marriott hotel and 600-acre rainforest reserve, Los Sueños is truly Costa Rica's premier destination resort community. With six unique restaurants and lounges at the Los Sueños Marriott Ocean & Golf Resort, as well as six other at Los Sueños Marina, choosing a place to dine is a delightful dilemma for residents and visitors to our resort.
The heart of the Resort
The Marina Village is home to restaurants, bars and retail stores such as boutiques, spas, interior design, rent-a-car, banks and more. The Marina Village serves as a unique venue for numerous special events throughout the year, including concerts, an arts and crafts festival, wine tastings, and an annual holiday celebration each December.
Los Suenos Resort Beach Club
The Beach Club is one of the top class amenities at Los Sueños and is designed for the exclusive enjoyment of our guests. The $3 million, 2 Acre facility features an impressive, free-form swimming pool and jacuzzi, as well as shower and change facilities, expansive decks, fountains, swim-up bar and an elevated, white sand beach with shade palapas and a spectacular view of Los Sueños Marina and Herradura Bay. Los Sueños residents have the right to reserve the facility for private functions, including cocktails, weddings, family reunions and business meetings.
The Spa
The new Sibö is a sensual and vibrant transformation retreat, where the lush and exotic rainforest releases its ingredients to create an all natural expression of balance and wellness. Experience the nurturing treatments, massage rituals, beauty services, state of the art fitness center, and emerge renewed, rejuvenated, revitalized and relaxed.
Los Suenos Marriott Ocean & Golf Resor
Los Suenos Marriott Hotel is located in Los Sueños Resort property. The hotel has 200 rooms, 6 restaurants, pool area and Spa. Our guest staying in condominiums or homes inside the resort are welcomed to use the hotel amenities such us: Restaurants, Golf Course and Spa on a pay per use basis. The hotel pool is for hotel gusts only however the Los Sueños Marriott offers daily passes to use the pool. Check with the hotel to find out about rates and availability of those passes. Our gust have access to the Los Sueños Beach Club a 2 acre amenity exclusive to property owners and renters.
---
Los Suenos Resort Vacation Activities
---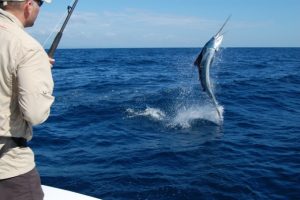 Los Suenos Sport Fishing
Planning fishing trips for clients, offers large selection of the best vessels in Los Sueños Marina for Costa Rica sport fishing – ranging from 26 ft. center-consoles to 60 ft. luxury yachts.
Sailing classes
Sailing classes are a great way to make friends and have a lot of fun! The kids can join a private or group class where the instructors will teach the basics of sailing while practicing safety in the water. They will sail on The Optimism, which is a simple and safe boat where kids can learn fast and help develop self confidence.
Surfing
Feel the magic of the ocean by riding the waves with professional instructors. The surf lesson begins with safety instructions, basics of surfing, paddling techniques, standing up on board and finally catching waves! Each instructor will meet your needs to give you a life experience you won't forget.
Sea Kayak | Canoe
Departing from Agujas beach, you will paddle through the beautiful coastline to a white sand beach where the guides will give you fresh fruit and cold water. Here you can chill out and enjoy the scenery or explore the coast while snorkeling.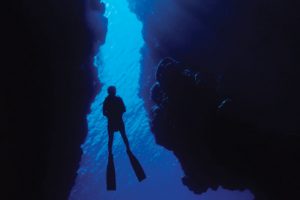 Scuba Diving
We offer local diving at Herradura Bay and also at many other different spots like Tortuga Island and Isla del Caño.
There's also different PADI certification courses available.
Sailing tour
Enjoy an exhilarating sailing adventure as the sun sets into the blue  waters of the Pacific. Private tours to celebrate anniversaries, birthdays, or other special event. Morning or sunset tour. Ask for private tours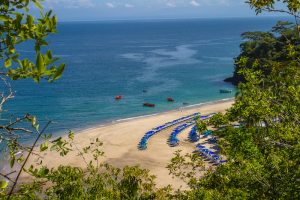 Sunset Catamaran Cruise
Departing from the beach in front of Los Sueños Marriott, sail to a amazing  white-sand beach accesible soley by water, with two beautiful reefs for snorkelling. Also available for private events, weddings, bachelor/ette and charters.
Tortuga Island Catamaran
Experience the beautiful tropical waters of Costa Rica on your day tour to Isla Tortuga. Jump aboard the brand new catamaran and set off on a full day of exciting outdoor activities. Enjoy the thrill of snorkeling, ride the banana boat, explore the island trails, or just relax with an ice cold drink on the white sand beach.
River Rafting
Challenge your self and friends and enjoy a tour that will put you in contact with nature. There are two rivers within driving distance that offer Class II, III and IV levels. For families with small kids we recommend the Savegre River. For a more adventurous experience the Naranjo River offers Class IV rapids. Levels vary depending on the time of the year
Tours from Jaco / Los Sueños
With over fifteen years of experience helping clients obtain their dream vacation, Stay In Costa Rica offers a variety of different tours with the most professional and experienced tour operators of the area. All of our tours are operated by companies that have insurance, along with all of the necessary permits.
ATV Tour
Discover beaches, rainforests, remote villages, waterfalls, and wildlife while driving a quad ATV Costa Rica adventure.
Canopy Tour
This exciting tour can be considered a thrill of a lifetime as you traverse the tropical forest on a system of cables and platforms
Monteverde
Explore this internationally famous cloud forest reserve and marvel over the fascinating biodiversity and perhaps get a glimpse of the Resplendent Quetzal bird.
Waterfall Tours
Along Jaco beach and up to Uvita, breathtaking waterfalls will invite you to relax and submerge under the falls of fresh mountain spring water.
Horseback riding – Jungle spa
This award winning tour will take you through the stunning, pristine, primary rain forest and open farm land of our 1500 acre private reserve.
Rainforest Adventures
This ecotourism park has exciting attractions and activities for everyone. Relax on the aerial tram ride through the transitional forest, glide over treetops with the zipline, climb a tropical waterfall
Carara National Park
Carara is a primary rainforest and a very important ecological transition zone. In this park inhabit more than 80% of the mammals of the country, a soft hike through the trails guided by a professional will charm your visit to this park which is home to more than 400 bird species, armadillos, monkeys, coatis, jaguars, snakes, sloths, white tail deer and a diversity of hundreds of plants.
Carara National Park is a national park in the Central Pacific Conservation Area located near the Pacific coast of Costa Rica. It was established on April 27, 1978 as a biological reserve, but its growing popularity after 1990 forced the government to upgrade its category to national park in November 1998
Poas Volcano
Walk in the misty cloud forest and be mesmerized by one of the largest craters on earth. Poas Volcano is a partially active volcano with steaming and sulfuric gas manifestations.
Arenal Volcano
Arenal Volcano is located in north Costa Rica. After a long drive through colorful landscapes and amazing views of the rain and cloud forest, you will explore the surroundings of this majestic volcano while walking along trails or visiting a waterfall.
Isla Damas Mangrove Tour
Float through the calm shallow waters of Damas Island, home of unique mangroves ecosystems and wildlife sightings. From the boat, the guide will teach you about the biodiversity of the area and hopefully point out capuchin white faced monkeys, birds, snakes, sloths, lizards, and more.
Crocodile Tour
Close to the Carara Biological Reserve is the Tárcoles River, home of a wide variety of birds and crocodiles. A trip down stream will show you the Guacalillo Mangroves, nesting place for the Scarlet Macaw and on the river banks you will see numerous species of birds.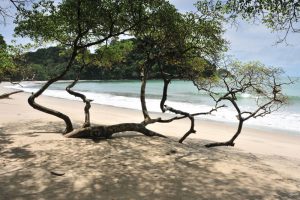 Manuel Antonio National Park
Get close to rainforest wildlife, swim in calm turquoise waters and rest under a tree after a guided walk through the rainforest in which sloths, 3 species of monkeys, rain frogs, toucans and many more beautiful animals are not uncommon.
Manuel Antonio is one of its jewel you absolutely need to know. An amazing flora & fauna that you can discover visiting the National Park as well as one of the most beautiful beaches in the world. The area unique atmosphere, and many activities so everybody can find what they were looking for. With your family, couple or friends, eco-tourists, seeking for exciting adventures, or just to relax, you came to the right place.
La Iguana Golf Course
La Iguana Golf Course
Nestled alongside an exotic rainforest with breathtaking ocean views, this 18-hole, par-72 championship course offers not only a challenging Ted Robinson designed layout but also a spectacular gallery featuring friendly monkeys and brightly hued macaws. Your knowledgeable golf guides will be happy to point them out. But make no mistake: the mesmerizing scenery masks a challenging course, one well worth conquering.
18-hole championship golf course (course rating: 73.4, par 72, slope 145). Get into the swing of things on Costa Rica´s most exotic golf course. To play this Par 72, 6.700 yard course is a golfers dream. Designed by Ted Robinson, this championship golf course is considered to be naturally challenging as golfers play through the wilds of the Costa Rican jungle.
Landscaped to include exotic native plants, banana trees and orchids, more than 150 species of birds as well as monkeys and other wildlife have been identified on the grounds. Imagine the surprise of one player whose golf ball was stolen by a monkey off of the 4th green.
PGA qualified golf professionals, a vast driving range, putting green and Taylormade rental equipment provide members with the finest in facilities and services. No matter what your current level of play, our state-of-the-art equipment and team of professionals are dedicated to assisting you with achieving your golfing goals.
The Marina
The Los Sueños Marina is the only government sanctioned marina operating in Costa Rica. With 200 wet slips, 100 dry slips, fuel dock, and full-time staff the Los Sueños marina is the ultimate full service port for many luxury sport fishing boats and luxury yachts. Its wet slips accommodate vessels from 30 to 180 feet in length, while the dry storage spaces accommodate vessels under 35 feet in length.
The Clinic
The Clinic provides emergency treatment and preventative medical consultations to the Los Sueños community. The clinic is located within the resort property, and is open from 8:00 a.m. to 5:00 p.m., seven days a week. Multilingual doctors are also on call 24-hours to attend to patients at the clinic, in their residences or on board their yachts. If further treatment is required once the patient is stabilized, the Clinic will arrange for transport to the renowned CIMA Hospital in San Jose via its new, fully-equipped ambulance or by private airlift if required. Phone number: 2637-8610
LINKS
Los Sueños Resort & Marina  official Resort website
Stay in Costa Rica at Los Suenos   offers the above Los Suenos Resort Vacation Activities
Los Sueños Marina Village offers Dining, Shops and Events
Los Suenos Marriott Ocean & Golf Resort  Marriott Hotel and Golf Club located within the Los Sueños Resort
Costa Rica Tourism offers Travel info
U.S. State Dept. offers Specific info. also see Costa Rica – The CIA World Factbook offers area info.