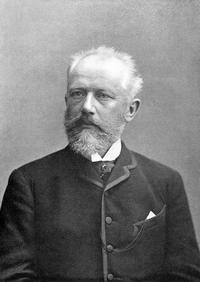 Pyotr Ilyich Tchaikovsky
Born: 7 May 1840 in Votkinsk, Russia
Died: 6 November 1893 in St. Petersburg
Russian composer Peter (Pyotr) Ilyich Tchaikovsky wrote some of the most-recognized melodies of classical music, and his ballet The Nutcracker endures as a winter holiday favorite. He began composing in St. Petersburg in the 1860s, while studying and teaching music at the Conservatory. By the 1870s he was gaining public notice, and after 1878 he devoted himself to composing full time. Tchaikovsky's expressive melodies and orchestrations made him an audience favorite beyond Russia, and his international travels included an American tour in 1891.
Many of his works are part of the canon of classical music of the Romantic era, including the opera Eugene Onegin, the ballet Swan Lake, the overtures Romeo and Juliet and 1812 Overture and his Sixth Symphony, known as Pathétique.
Tchaikovsky had a personal reputation as emotionally fragile. His brief 1877 marriage to a woman he barely knew is now considered an ill-fated attempt to mask his homosexuality, and possibly led to what has been called a nervous breakdown. The issue of his sexuality is also considered by some modern scholars to have played a part in his untimely death. Originally it was held that Tchaikovsky died from cholera, a result of drinking tainted water. Further research a century later led to the suggestion that he may have deliberately poisoned himself, forced to by a "court of honor" as punishment for his relationship with a young male aristocrat.
From 1877 to about 1890 Tchaikovsky received financial support from Nadezhda von Meck, a wealthy widow who admired but did not know him… Cambridge University made him an honorary Doctor of Music in 1893… Transliterations of his name include Petr, Piotr and Peter, and Tschaikowsky and Chaikovsky.
He started piano studies at five and soon showed remarkable gifts; his childhood was also affected by an abnormal sensitivity. At ten he was sent to the School of Jurisprudence at St Petersburg, where the family lived for some time. His parting from his mother was painful; further, she died when he was 14 – an event that may have stimulated him to compose. At 19 he took a post at the Ministry of Justice, where he remained for four years despite a long journey to western Europe and increasing involvement in music. In 1863 he entered the Conservatory, also undertaking private teaching. Three years later he moved to Moscow with a professorship of harmony at the new conservatory. Little of his music so far had pleased the conservative musical establishment or the more nationalist group, but his First Symphony had a good public reception when heard in Moscow in 1868.
Rather less successful was his first opera, The Voyevoda, given at the Bol′shoy in Moscow in1869; Tchaikovsky later abandoned it and re-used material from it in his next, The Oprichnik. A severe critic was Balakirev, who suggested that he wrote a work on Romeo and Juliet: this was the Fantasy-Overture, several times rewritten to meet Balakirev's criticisms; Tchaikovsky's tendency to juxtapose blocks of material rather than provide organic transitions serves better in this programmatic piece than in a symphony as each theme stands for a character in the drama. Its expressive, well-defined themes and their vigorous treatment produced the first of his works in the regular repertory.
The Oprichnik won some success at St Petersburg in 1874, by when Tchaikovsky had won acclaim with his Second Symphony (which incorporates Ukrainian folktunes); he had also composed two string quartets (the first the source of the famous Andante cantabile), most of his next opera, Vakula the Smith, and of his First Piano Concerto, where contrasts of the heroic and the lyrical, between soloist and orchestra, clearly fired him. Originally intended for Nikolay Rubinstein, the head of Moscow Conservatory, who had much encouraged Tchaikovsky, it was dedicated to Hans von Bülow (who gave its première, in Boston) when Rubinstein rejected it as ill-composed and unplayable (he later recanted and became a distinguished interpreter of it). In 1875 came the carefully written Third Symphony and Swan Lake, commissioned by Moscow Opera. The next year a journey west took in Carmen in Paris, a cure at Vichy and the first complete Ring at Bayreuth; although deeply depressed when he reached home – he could not accept his homosexuality – he wrote the fantasia Francesca da Rimini and (an escape into the 18th century) the Rococo Variations for cello and orchestra. Vakula, which had won a competition, had its première that autumn. At the end of the year he was contacted by a wealthy widow, Nadezhda von Meck, who admired his music and was eager to give him financial security; they corresponded intimately for 14 years but never met.
Tchaikovsky, however, saw marriage as a possible solution to his sexual problems; and when contacted by a young woman who admired his music he offered (after first rejecting her) immediate marriage. It was a disaster: he escaped from her almost at once, in a state of nervous collapse, attempted suicide and went abroad. This was however the time of two of his greatest works, the Fourth Symphony and Eugene Onegin. The symphony embodies a 'fate' motif that recurs at various points, clarifying the structure; the first movement is one of Tchaikovsky's most individual with its hesitant, melancholy waltz-like main theme and its ingenious and appealing combination of this with the secondary ideas; there is a lyrical, intermezzo-like second movement and an ingenious third in which pizzicato strings play a main role, while the finale is impassioned if loose and melodramatic, with a folk theme pressed into service as second subject. Eugene Onegin, after Pushkin, tells of a girl's rejected approach to a man who fascinates her (the parallel with Tchaikovsky's situation is obvious) and his later remorse: the heroine Tatyana is warmly and appealingly drawn, and Onegin's hauteur is deftly conveyed too, all against a rural Russian setting which incorporates spectacular ball scenes, an ironic background to the private tragedies. The brilliant Violin Concerto also comes from the late 1870s.
The period 1878-84, however, represents a creative trough. He resigned from the conservatory and, tortured by his sexuality, could produce no music of real emotional force (the Piano Trio, written on Rubinstein's death, is a single exception). He spent some time abroad. But in 1884, stimulated by Balakirev, he produced his Manfred symphony, after Byron. He continued to travel widely, and conduct; and he was much honoured. In 1888 the Fifth Symphony, similar in plan to the Fourth (though the motto theme is heard in each movement), was finished; a note of hysteria in the finale was recognized by Tchaikovsky himself. The next three years saw the composition of two ballets, the finely characterized Sleeping Beauty and the more decorative Nutcracker, and the opera The Queen of Spades, with its ingenious atmospheric use of Rococo music (it is set in Catherine the Great's Russia) within a work of high emotional tension. Its theatrical qualities ensured its success when given at St Petersburg in late 1890. The next year Tchaikovsky visited the USA; in 1892 he heard Mahler conduct Eugene Onegin at Hamburg. In 1893 he worked on his Sixth Symphony, to a plan – the first movement was to be concerned with activity and passion; the second, love; the third, disappointment; and the finale, death. It is a profoundly pessimistic work, formally unorthodox, with the finale haunted by descending melodic ideas clothed in anguished harmonies. It was performed on 28 October. He died nine days later: traditionally, and officially, of cholera, but recently verbal evidence has been put forward that he underwent a 'trial' from a court of honour from his old school regarding his sexual behaviour and it was decreed that he commit suicide. Which version is true must remain uncertain.
works:
Dramatic music
The Voyevoda (1869)
The Oprichnik (1874)
Vakula the Smith (1876)
Eugene Onegin (1879)
The Maid of Orleans (1881)
Mazeppa (1884)
The Sorceress (1887)
The Queen of Spades (1890)
ballets: Swan Lake (1877)
The Sleeping Beauty (1890)
The Nutcracker (1892)
incidental music
Orchestral music
Sym. no.1, g, 'Winter Daydreams' (1866, rev. 1874)
Sym. no.2, c, 'Little Russian' (1872, rev. 1880)
Sym. no.3, D, 'Polish' (1875)
Sym. no.4, f (1878)
Sym. no.5, e (1888)
Sym. no.6, b, 'Pathétique' (1893)
Manfred, sym. (1885)
Romeo and Juliet, fantasy ov. (1870, rev. 1880)
Francesca da Rimini, sym. fantasia (1876)
1812, ov. (1880)
Hamlet, fantasy ov. (1888)
Pf Conc. no.1, b♭ (1875)
Pf Conc. no.2, G (1880)
Pf Conc. no.3, E♭ (1893)
Vn Conc., D (1878)
Variations on a Rococo Theme, vc, orch, A (1876)
Serenade, strs (1880)
over 20 other works
Chamber and keyboard music
3 str qts (1871, 1874, 1877)
Pf Trio, a (1882)
Souvenir de Florence, str sextet (1890)
12 other chamber works
Pf Sonata, G (1879)
over 100 other pf pieces
Vocal music
c30 choral works, incl. sacred pieces, secular cantatas
over 100 songs and duets