The D-JET is designed specifically for the owner pilot, with attainability from both a financial as well as pilot qualification perspective. The combination of an extremely roomy cabin and three large baggage compartments, with a familiar flight envelope (to FL250), the FADEC-controlled FJ33 engine and the Garmin G1000 3-screen flight deck, makes the D-JET the ideal Personal Light Jet, for pilots stepping up from high performance piston singles, twins and light turboprops or downsizing from expensive-to-operate, older, light business jets.
Stunning to look at sitting on the ramp or blasting through the sky, this aircraft has everything you'd expect in a jet, such as luxurious comfort, speed and technology, and many things that other jets just can't offer, such as affordability and ease of operation.
Step inside and you'll see a cockpit that's as spacious as it is simple. Make yourself comfortable in the luxurious pilot's seat, and marvel at the three-panel Garmin G1000 glass cockpit, great outward visibility, and controls and switches that are placed exactly where you want them.
There's no way to describe the open, spaciousness of the D-JET cabin – you simply have to experience it for yourself. The seating configuration is two plus three, with a rear-seat bench that comfortably accommodates three people, with Executive Class comfort for two. The unique seating arrangement offers more legroom than any comparable aircraft. Whether you're traveling for pleasure or business, the D-JET offers you the space and comfort you'd expect from an aircraft costing substantially more.
Included in the purchase price of each D-JET aircraft is a D-JET type rating transition course. D-JET flight training will be available at selected, authorized locations and will ultimately include time in a D-JET Simulator from Diamond Simulation. More details will post on myJetReview.com in the coming months regarding the D-JET flight training program.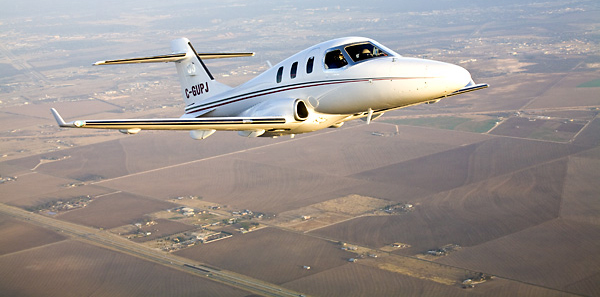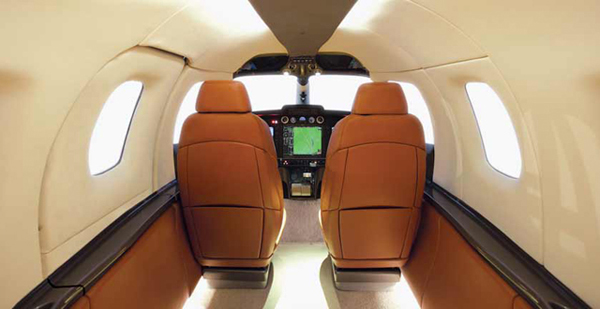 D-JET Standard Features
Garmin G1000 three-screen system including:

Garmin GDU 1240A 12-inch Primary Flight Displays (PFDs)
Garmin GDU 1500 15-inch Multi-Function Display (MFD)
Garmin flight management system with keypad controller
Garmin GFC 700 3-axis Automatic Flight Control System
Dual Garmin GIA 63W VHF comm, VHF nav with ILS localizer and glideslope, WAAS-certified GPS, IFR enroute and approach certified
Dual Garmin GRS 77 solid-state Attitude and Heading Reference System (AHRS)
Dual Garmin GDC 74 digital air data computers
Garmin GTX 33 Mode S transponder

Dual pitot static system
Active Traffic Advisory System
TAWS-B Terrain Awareness System
Satellite data link for weather and support for XM Radio in-flight infotainment (subscription required)
406 MHz emergency locator transmitter (ELT)
Equipped for known ice certification – actual certification for known ice may follow post-delivery
Vapor cycle air conditioning
Performance specifications may vary depending on model and equipment selected
D-JET Optional Equipment
Garmin GWX 68 weather radar system with 12-inch antenna
Becker 3500 ADF
Honeywell KN63 DME
Premium Care maintenance program
Garmin Synthetic Vision Technology
Additional optional equipment may be announced by Diamond Aircraft at any time. Please see Diamond Aircraft's website or your local Diamond Distributor for the most current list of optional equipment.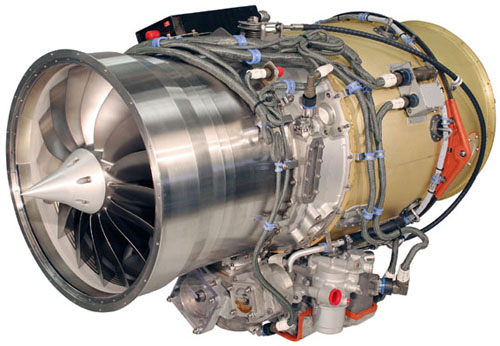 D-JET to get higher-thrust Williams FJ33 engine
Diamond Aircraft has selected a newer, higher nominal thrust engine in the same Williams engine family for the D-JET – the FJ33-4A-19.
The engine's advantages include several technological advances that result in better bleed air handling and improved specific fuel consumption. With a 1,900-lb nominal thrust versus 1,564 lbs for the originally planned FJ33-4A-15, the 'FJ33-19' also offers a potential future performance upgrade path for the D-JET. Williams International's accelerated development schedule of the FJ33-19 has made it viable to proactively launch D-JET deliveries with this engine rather than reactively introducing it at a later date in response to competitive pressures
"The FJ33-19 engine is the perfect match for the D-JET, offering the latest technology and a potential performance and utility upgrade path for delivered aircraft that the current engine just doesn't allow. While making this change now rather than later means that initial deliveries will now be in Q2, 2009, we are confident this is the right choice and in the interest of all D-JET customers, as it ensures one configuration and maximum resale value for all delivered aircraft," said Peter Maurer, President of Diamond Aircraft.
"The FJ33-19 is the very latest in turbofan engine technology and offers unique features never before available on a smaller turbofan engine," explained Matt Huff, Vice President of Business Development at Williams International. "We are pleased that our accelerated development schedule for this engine now makes it feasible for Diamond to launch with the FJ33-19, instead of introducing it after initial aircraft deliveries. Every D-JET customer will now benefit from technological advances, such as the built-in pre-cooler and new compressor technology."
Diamond Aircraft flew its D-JET for the first time with the new Williams FJ33-5A engine in late 2008. "This is an important milestone for the D-JET program as we will be using this and subsequent aircraft for actual certification flights," said Peter Maurer, President of Diamond Aircraft.
D-JET S/N 003, flown by Chief Test Pilot Daniel Ribeiro and Flight Test Engineer Gerard Struthers, departed from Diamond Aircraft's London, Ontario facility for a successful 1.4-hour flight with completion of all intended test points.
Serial number 003, originally powered by the Williams FJ33-15 engine, had first flown on April 14th 2008. Following Diamond's decision in March 2008 to upgrade from the FJ33-15 to the FJ33-5A (formerly designated FJ33-19), S/N 003 was reconfigured to accept the new engine, with new engine inlets and fairings, as well as other detail aerodynamic modifications, including the production version of the winglets.
Although the D-JET will be certified initially with a derated version of the FJ33-5A engine, the configuration is designed to accept the higher thrust rating that Williams International plans to release in future, based on the expected successful in-service experience with the current engine. "When Williams introduced the new engine, we had to decide whether to continue with the original FJ33-15 or upgrade to the FJ33-5A right away, even if it meant a program delay," added Maurer. "In the interest of all D-JET owners, we chose to upgrade to the larger engine and create an optional future performance upgrade path. This decision has been universally welcomed by our customers, as it will preserve the value of even the first delivered aircraft."
D-JET's Environmental Control System:
Keeping You Comfortable Wherever You Go
Envision this: It is late afternoon on a hot day in late summer. While you've been meeting with your customer after your morning flight to this destination, your D-JET aircraft has been sitting in full sunlight on a paved ramp at the airport since your flight. As you walk out to the aircraft after your meeting, you don't have to worry about how long it will take the cabin to become comfortably cool for your fl ight home. This is because a lot of thought has been given to the design and execution of the D-JET's air conditioning system.
In fact, the more appropriate term is the aircraft's environmental control system (ECS), which is commonly understood to include cabin pressurization, cabin temperature control and the defogging and de-icing of transparencies (windshield). The D-JET's ECS is an integral part of a broader system design that encompasses other related elements: airframe and engine anti-icing; the cooling of electronic and electrical equipment; and the ventilation of aircraft cavities to prevent accumulation of potentially harmful vapors and to control the cavity pressures and humidity levels. Future D-JET Flyer articles may address some of these related systems. This article provides an overview of the D-JET's ECS, which consists of three subsystems: the bleed air system, the cabin pressure control system and the vapor cycle system. All of these elements work together to help keep you comfortable and safe on the ground and in the air.
Bleed Air System
Bleed air is compressed air taken from within a turbine engine after the compressor stage(s) and before the fuel is injected into the burners. In a sense, compressed air is extracted from the engine and put to use for some other purpose besides propelling the aircraft forward. For cabin pressurization and heating, engine compressor bleed air is introduced into and distributed inside the cabin. This bleed air is very hot at its source and needs to be cooled to cabin-compatible levels.
For this purpose, the air passes through an engine-installed pre-cooler, which returns the heat extracted from the bleed air to the engine's fan stream, hence into the thermodynamic cycle of the propulsion system. This is one of the design innovations in the D-JET's Williams FJ33-19 engine, as this approach to bleed air handling provides the least possible loss of system effi ciency and actually returns to the engine some of the thrust lost due to the air extraction. The air also passes through surface heat exchangers integrated into the engine air intake's walls that have a primary task of preventing ice build-up on these walls. Solid ice attached to the inlet walls could cause severe damage to the engine if shed and thus jeopardize the safety of flight, so the system has to comply with very stringent requirements to be certified for flight into icing conditions.
The bleed air temperature is measured at the cabin entry and controlled by a diverter valve in the pre-cooler circuit. This valve modulates the amount of bleed air that's directed through the cooler and, as a result, regulates the temperature of the bleed air entering the cabin.
Inside the cabin, the air is distributed beneath the floor, between the skin and cabin liner (to ventilate and dry the cavities and insulation material) and over the windshield for defogging purposes. Air also is distributed along the cabin floor for passenger comfort, based on cabin thermostat settings set by the pilot Dependent on ambient conditions and engine RPM, the system is designed to heat the cabin to comfortable levels within 10 to 15 minutes after engine start. In extreme conditions, this process can be accelerated by selecting Inlet Anti-Icing ON, which increases the bleed airflow rate and temperature, thus supplying the cabin with substantially more heat.
Cabin Pressure Control System
The cabin pressure is controlled by two outflow valves governed by a fully automatic system requiring no more pilot attention than the pre-flight input of the landing field's elevation and in-fl ight monitoring of the parameters displayed. The maximum cabin altitude is 8,500 feet, which is maintained to the D-JET's certifi ed ceiling of FL250. The cabin rates of climb and descent are automatically regulated by the system to provide smooth transitions for the comfort of passengers and pilot.
In case of cabin under-pressure at altitude, visual and audible warnings make the pilot immediately aware of a potentially dangerous situation and the need to return as instructed in the manual to physiologically safe environmental conditions at a lower altitude. Such a loss of pressurization is rare and is always treated as a severe failure condition. Having such a failure at or below the D-JET's certifi ed 25,000-foot ceiling is far less critical than such a failure occurring in other aircraft at much higher altitude. This concept is a cornerstone of our D-JET safety philosophy, especially for low time, or step-up pilots. In case of rapid depressurization, stand-by oxygen masks are easily accessible to both pilot and co-pilot, to ensure their ability to safely descent the aircraft to a lower, physiologically safe altitude. Emergency oxygen masks also are provided to rear seat passengers.
Vapor Cycle System (The Air Conditioner)
Cabin air is re-circulated by an adjustable blower that delivers the air through a conditioning system into the overhead and instrument panel gasper system. The conditioning unit is a Vapor Cycle System (VCS) that cools and dries the recirculation air in accordance with the selected cabin air temperature. A digital control allows the pilot to adjust cabin air temperature, blower speed and the windshield defogging mode.
The vapor cycle system is designed to extract up to 15,000 BTU/ hour* (4.4 kW) from the cabin air. This allows cooling of a stationary, hot-soaked aircraft's cabin air from 120 degrees F to 80 degrees F (49 deg C to 27 deg C) within 10 minutes. An additional benefit of the vapor cycle system is the ability to power it with external power, such as an GPU. With the system on in ground mode, the aircraft can thus be pre-cooled to comfortable temperatures while the pilot performs the preflight checks and before passengers board.
The conditioned air is also used to cool the components of the avionics system. Although this is not required for these components' proper function, the cooling is apt to prolong avionic component life and thus minimize the D-JET's overall operating costs. The system's condenser cooling circuit outside of the pressurized fuselage is laid out to maintain active ventilation in the entire rear fuselage, to prevent the condensation and freezing of moisture on structures and systems.
More about BTU ratings – BTU/hr refers to sensible heat, only. Some system manufacturers use to also include the latent heat in their system's cooling capacity rating, which, depending on the cabin air's relative humidity, can add 50 to 100% to the fi gure based on sensible heat only. To do so is perfectly legitimate, providing an index relevant for the thermal comfort perceived by the occupants. However, when comparing performance figures of such cooling systems, it must be known which method of assessment the figures are based on. Typically, the D-JET's 15,000 BTU/hr system can achieve a combined heat exchange (sensible and latent) of up to 35,000 BTU/hr at extremely humid conditions. Compared to other Very Light Jets, the D-JET's ECS is a high-power system, to ensure cabin comfort even on hot days.
Summary – Environmental Control System
The D-JET's environmental control system does a lot to keep occupants safe and comfortable.
It pressurizes the cabin to permit fl ight at altitudes of up to 25,000 feet, with automatic cabin pressure regulation to reduce pilot workload.
It provides unrivaled aircraft heating and cooling performance in an aircraft of this weight class with easy digital temperature pre-select by the pilot, again reducing pilot work load, and with an ability to pre-cool the aircraft on the ground, under external power.
It minimizes the aircraft's weight by multi-tasking: the same bleed air system delivers cabin pressurization, cooling of the ECS air, and inlet anti-icing.
It minimizes the impact on overall aircraft performance due to effi cient bleed air extraction from the engine, partial recovery of heat losses, and the smallest possible drag penalty for peripheral ram-air cooling. (Ambient air is only used for the VCS' condenser cooling and ventilation where required.)
It also helps reduce the overall operating and maintenance costs by extending the life of electronic equipment, minimizing corrosion by controlling cavity moisture and maintaining dry structures.
Price / Purchase
Diamond will deliver the FJ33-19-equipped aircraft to current position holders at the contracted price; however, the company announced that a price increase for future orders is expected shortly.  The D-JET was priced from $1,380,000 USD (July 2006), and subject to adjustment as per the terms of the D-JET Deposit Agreement. This is a remarkable value for a jet aircraft very thoroughly appointed. Optional equipment and destination charges also may apply. Diamond announced in March its intent to increase the D-JET's price as part of the selection of the larger, more powerful Williams FJ33-19 engine as the aircraft's powerplant. New pricing terms have not yet been announced, making today's pricing terms even more compelling. To purchase a D-JET contact Diamond Aircraft at www.diamondaircraft.com or call 1-888-359-3220