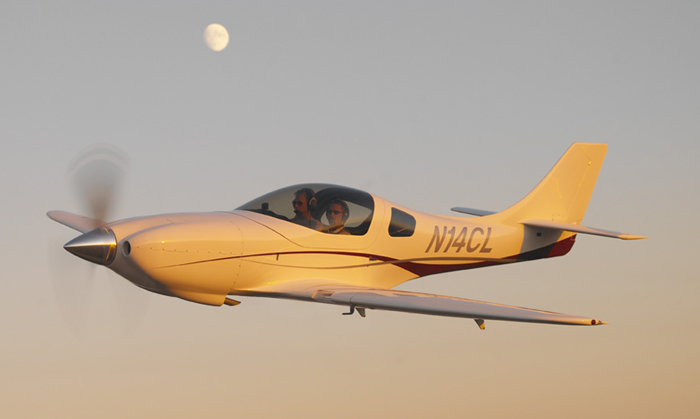 Lancair Legacy & Legacy FG Performance Aircraft
Lancair Legacy
Fastbuild Kit: $69,500
Finished Plane Estimate: $180,000 – $280,000
The Legacy represents the culmination of more than a decade of research, testing and invaluable input from Lancair builders and fliers. Redesigned from the tail forward, it's bigger, faster and easier to build.
Wing Design. When the Lancair team went to work designing a new wing planform, high expectations were set. This wing had to perform up to the tremendous top speeds that pilots expect from Lancair aircraft. However, a higher emphasis was placed on low speed handling. To keep area to a minimum, the wing has a unique double taper to maximize the lift distribution from root to tip. This also allowed Lancair to eliminate all "washout" which can compromise efficiency. This new airfoil creates extensive laminar flow across more than 50% of the surface. The low-drag laminar "bucket" is also wider than before, further increasing overall performance. The result is very carefully "tuned" wing design, which enhances overall aircraft performance.
Roll control had to remain light, snappy and balanced – a "320" trademark. Plus, a relatively thick chord was employed which aids strength while providing room for adequate fuel (up to 66 gallons). This wing also had to swallow the new larger 5.00 x 5 main gear ties without gear door modifications.
Lancair is very pleased that the new Legacy wing exceeds all expectations, with lower stall speed; better roll rate, improved low speed handling and higher top speeds. Ultra-high-speed cruise with a nimble roll rate of 150 degrees/second and solid, comfortable control stick forces are the result of an intense design process.
At the other end of the performance spectrum, the Legacy's low-speed roll control is nothing short of remarkable, and the stall behavior is "straight ahead." The addition of simplified Fowler flaps further increases the wing's maximum lift coefficient to enhance this low speed handling. This translates into the safety of slower approaches and shorter landing distances.
Increased Cabin Comfort. Lancair engineers didn't stop with performance, durability and good looks when they completely redesigned their two-seat Lancair from the tail forward. Inside the cabin, creature comforts, ergonomics, and luxury were foremost customer considerations. A wider and taller cabin now offers more shoulder and headroom. Plus, the larger canopy affords unobstructed visibility and outstanding views in all directions, another safety element. The roomier baggage area makes it possible to comfortably stow everything you'll need on a cross-country trip – including your golf bags and fishing rods.
The Lancair Legacy offers a generous 43.5-inch cabin width and 44.5-inch height. Unlike most fast singles, pilot and passenger sit in a normal upright position with headroom to spare.
Fastest in the Air. The Legacy's spacious new fuselage didn't come at the expense of speed; it's now able to accommodate a larger engine. With a 310 h.p. Continental 1O-550, the Legacy achieves stellar performance, by cruising 280 m.p.h. at 10,000 ft. The Legacy's climb rate of +2200 Fpm will amaze you.
Design. Every aspect of the Legacy has been methodically designed and engineered, from the kit assembly process to flight characteristics. Detachable wing panels are just one example. To trailer your aircraft over streets or highways to an airport or to the paint shop, the wings can be removed while the aircraft remains fully on its landing gear, a feature praised by our customers. Lancair also works closely with the engineers at Teledyne Continental Motors and Textron Lycoming, Hartzell and MT-Propellers to refine the power plant installation and to perfect the union of engine and propeller to the airframe. Many engine options – from 160 h.p. to 310 h.p. – can be accommodated including the Lycoming 1O-360 and the Continental 1O-550.
Fuel. Fuel is carried in the wings – the fuel tanks are integral within the wing bays. Standard fuel tanks have a 66 gallon capacity. The fuel selector is per FAA standards, allowing for either left, right or off. (The "both" position is not recommended for low-wing aircraft.) As a safety feature, each wing tank incorporates a "slosh bay" to prevent unporting of the fuel pickup in the event of uncoordinated maneuvers such as during slips. The fuel valve (for Continental engines) also returns "vapor," or return fuel, back to the fuel tank in use, which tremendously simplifies management. Custom fuel quantity monitoring systems are available as options.
Advanced Landing Gear. Sitting three inches taller than the 320/360 for more ground and prop clearance, the Legacy's main landing gear incorporates premium air/oleo struts with the larger 5.00 x 5 main gear tires for better landing characteristics. The nose gear is also the premium air/oleo strut with unique internal viscous shimmy dampening. Protected from the environment, the internalized dampening system provides longer service life, and there are no scissor links to wear out. Steering is easily accomplished by differential braking, permitting tight-radius turns, and the rudder becomes effective at taxi speeds as low as 20 m.p.h. A tire guide strap assures proper retraction of the nose wheel into the gear. The retraction method is Lancair's well proven, extremely reliable and simple, electro/hydraulic system.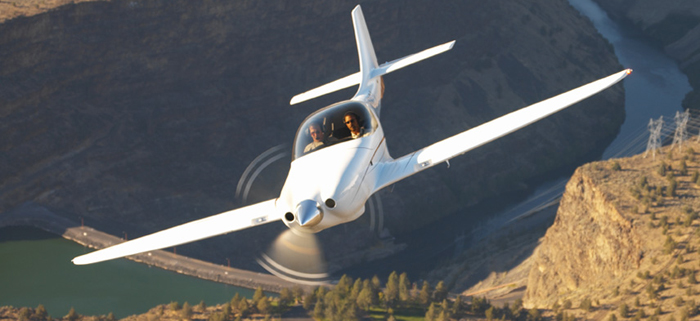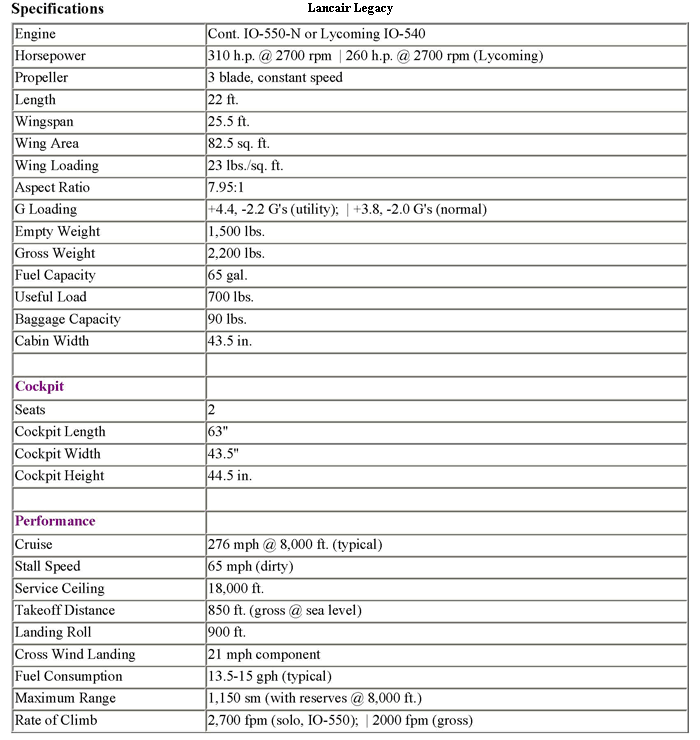 ---
Lancair Legacy FG (Fixed Gear)
Fastbuild Kit: $47,500
Finished Plane Estimate: $130,000 – $250,000
The Legacy Fixed Gear kitplane is a simple, economical version of the existing retractable gear Legacy. Other than the permanent down and locked wheels, the fixed gear Legacy is very similar to its retractable gear counterpart. Sharing the fuselage, wing and tail with the retractable gear Legacy makes for balanced and quick handling characteristics while reducing the cost with fiberglass construction.
The new Legacy FG is designed to accept a four cylinder Lycoming engine with a conventional instrument panel to lower costs and reduce build time. Fitted with a 210 hp Lycoming IO or TNIO-390X powerplant, the Legacy FG upholds Lancair's performance reputation with a typical cruise of over 225 mph and a range of more than 1,300 statute miles. You can also get the FG in a carbon version that will accept the TCM IO550N. Legacy FG builders will also have the option of taking advantage of Lancair's highly regarded builder assist program.
Kit aircraft builders looking for the performance and style of a Lancair at a lower cost and even shorter build time need look no farther than the new fixed gear
The overall configuration of the airframe is basically the same for both aircraft, but the fixed gear version is constructed primarily of fiberglass rather than carbon fiber. Additionally, Lancair designed the kit to accept four-cylinder Lycoming engines as well as simplified panels and interior appointments to lower costs and speed up building times.
Legacy FG builders will have the option of taking advantage of Lancair's highly regarded builder assist program as well as all of the other technical assist programs that Lancair has in place. The builder assist program, the inherently simpler nature of the kit (no gear doors or hydraulics) and special instrument panel packages will reduce build time significantly relative to the retractable gear Legacy.
Materials. The Legacy's major airframe is constructed of advanced composite materials. Cured at 270 degrees Fahrenheit under vacuum pressure, these NASA tested, epoxy based composites are among the lightest, strongest, stiffest materials known.
The high-temperature, pre-impregnated carbon fiber and/or fiberglass systems combined with Nomex/honeycomb core materials are considered the supreme composite airframe materials of choice worldwide. This combination allows compound aerodynamic shapes, such as the Legacy's sculptured fuselage and double-taper wing, and there are no drag-producing rivets or lap joints. Corrosion resistant, a nearly infinite fatigue life and virtually non-flammable, composite materials also extend the life of your investment. Lancair airframes will easily outlive any aluminum airframe when properly maintained. And, as Lancair builders tell you, composites are easier to work with and far easier to repair.
Testing. Component parts are rigorously tested during aircraft development and throughout the manufacturing process. Lancair engineers are committed to the ideas that perfection of the whole can be accomplished only through perfection of the smallest details. For example, in addition to computer analysis, a full flutter test program was conducted on actual aircraft components beginning with an extensive Ground Vibration Survey (GVS), which is utilized over forty accelerometers covering all points of the airframe.
In environmental testing chambers, Lancair engineers simulate extreme natural conditions that the aircraft's materials might be exposed to during their long life. Samples are tested at room temperature and in extreme "hot/wet" conditions. During this testing phase, the incredible strength and stiffness of the fiberglass and carbon fiber materials becomes most evident. To finally confirm materials and engineering data, a complete static load-testing program is conducted for the wing and other specific load bearing areas.
Lancair's impeccable safety record and record-setting performance are the ultimate outcome of this rigorous testing process. You can rest assured that your Legacy is one of the best-engineered aircraft in the skies.
From the moment you commit to building a Legacy, you become a member of the Lancair family. Lancair's fastbuild kit, firewall and engine fastbuild programs, , avionics shop, free technical assistance and builder assist program make the assembly process quick, efficient and enjoyable. Lancair flight training, pre-flight inspection and flight test programs are the only such programs in the entire industry. They are provided for you and will instill confidence and safety with your finished Lancair.
Kit Preassembly. To make wing assembly simpler and more manageable, the main spars and the ribs are "pre-installed" into the wing skins. Then, wing attachments bushings that accurately establish the wing dihedral are pre-installed. Flaps and ailerons are completed and most of the control systems are installed for you. The remaining installations and assemblies are simple and very straightforward. Lancair invented the Fastbuild kit and the Legacy kit is the result of over ten years of Fastbuild kit developments. It is sensational.
Lancair Builder Assist Program. Nothing beats having experienced technical assistance during the early stages of your Lancair Legacy assembly. In the builder assist program, conducted at Lancair facility, you not only learn the basics of advanced composite construction, but in addition, completely close out both wings, including flaps and ailerons, and finish the horizontal stabilizer and elevators in the first week. Lancair supplies the fixtures, tools, supplies, and guidance! You will head home with not only a lot accomplished, but also the knowledge and confidence to quickly and accurately complete your airframe.
Free Technical Assistance. When you buy a Lancair you'll receive unlimited, free technical assistance, five days a week, eight hours a day – forever. Lancair's staff is available to advise on all aspects of your assembly and final systems installations, from spinner to tail. Free guidance also includes optional installations such as autopilots, new avionics and system accessories.
History. It all began in 1985 with the revolutionary Lancair 200, an aircraft so technically advanced that its now part of the experimental aircraft association museum collection. The Lancair 200 revolutionized the flying experience, offering pilots more performance, more freedom, increased satisfaction, and a better value than any other piston-engine general aviation craft in existence.
Never content to rest on their laurels, Lance Neibauer and the Lancair team continued to push the envelope of the world's finest two-place airplane. The result: the Lancair 320/360, an aircraft so beautiful and unprecedented in design that it hung on display in New York city's Metropolitan Museum of Art. Swift, stable, tight and responsive, the Lancair 200's evolutionary heir again shook up the general aviation industry.
Now, 15 years after the Lancair revolution began, the history of unparalleled innovation, and the heritage of record-setting performance continues with the Lancair Legacy. The successor to Lancair's legendary two-place line