Caribbean Cruise Top Choice for a Romantic Rendezvous
SANTA CLARITA, Calif., Feb. 7, 2018 — Princess Cruises has long been a leader in romance, setting the standard for love on the high seas – from serving as the co-star of "The Love Boat" TV series, to being the first cruise line to offer weddings at sea. In celebration of the line's favorite holiday, Princess Cruises partnered with Wakefield Research to survey 1,000 U.S. adults to find out their ideal Valentine's Day gifts and activities. Of those surveyed, a vacation (26%) was twice as popular as receiving flowers (13%), jewelry (11%), chocolate (10%) or other gifts. When asked what their ultimate romantic vacation would be, the majority of respondents' (55%) chose a cruise to the Caribbean. Another interesting result: nearly half (43%) of women surveyed would give up sex over chocolate for a week, while only 24% of men would do the same.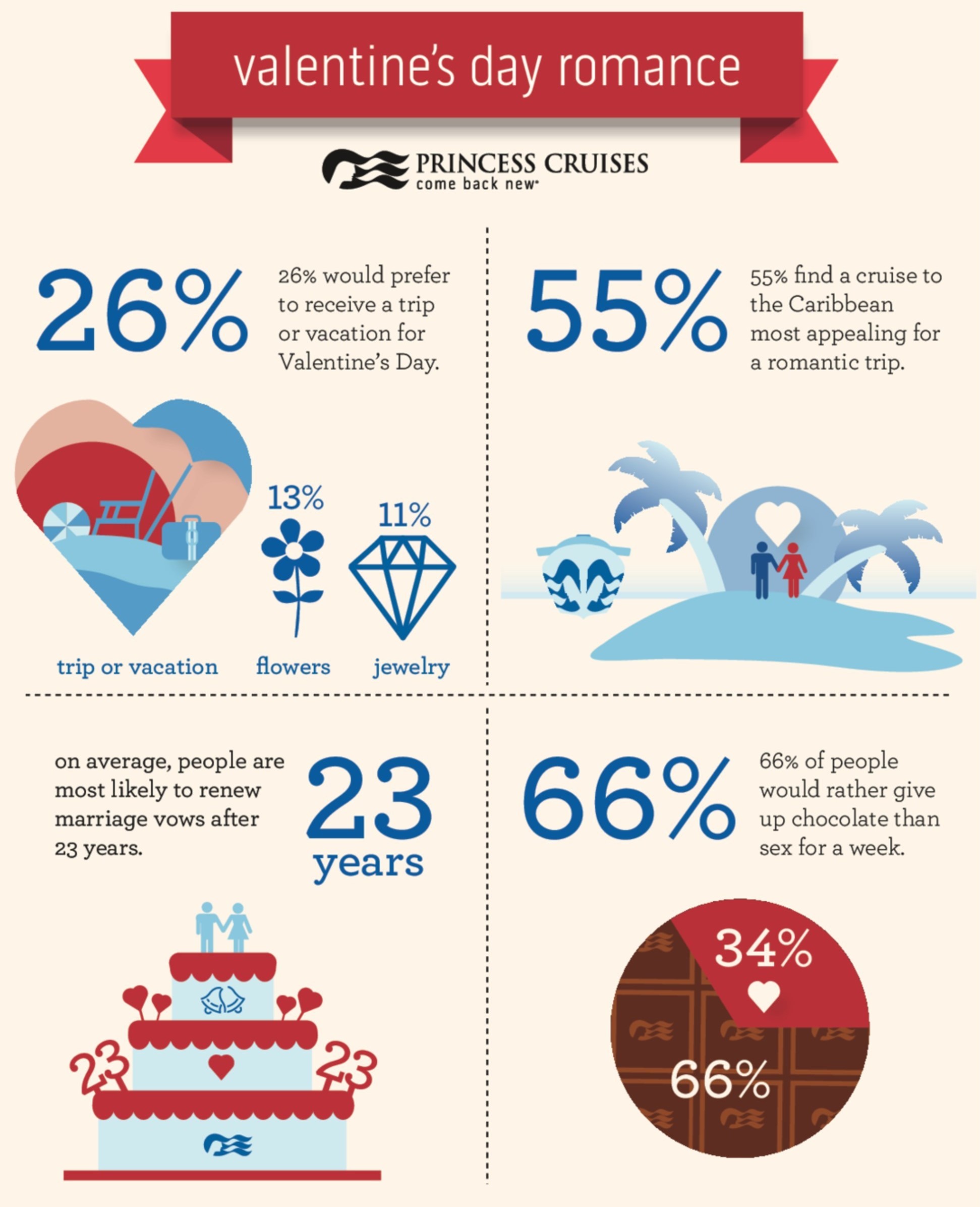 Additional survey findings included:
The celebrity couple that most respondents would want to double date with is former President 

Barack Obama

 and former first lady 

Michelle Obama

 (30%), followed closely by "The Voice" judges and music powerhouse couple 

Blake Shelton

 and his girlfriend, singer 

Gwen Stefani

(23%)
The majority of those surveyed (51%) would opt to renew their vows between 10 and 25 years of marriage
As one of the world's most well-known cruise lines, Princess Cruises' ships will sail to romantic destinations around the globe this Valentine's Day, including respondents' favorite location, the Caribbean. In celebration of the holiday, romantic options available include:
Private balcony breakfasts and dinners, featuring freshly made fare daily
A private cabana to relax and reconnect in the adults-only Sanctuary
A couple's massage in a private ocean view treatment room with whirlpool at the Lotus Spa
And wine and chocolate pairings as part of the Chocolate Journeys program, created by reknowned chocolatier, 

Norman Love

A romantic night out watching "Movies Under the Stars" on the top deck
Princess celebrity ambassador Gavin MacLeod, who played Captain Merrill Stubing on The Love Boat isn't surprised that respondents selected a Caribbean cruise as their ultimate romantic getaway. "It's always been a favorite destination of guests and the celebrities who came aboard for the show. But, there is nothing more romantic than a Princess cruise – no matter where you sail!"
About Princess Cruises:
One of the best-known names in cruising, Princess Cruises is a global cruise line and tour company operating a fleet of 17 modern cruise ships renowned for their innovative design and wide array of choices in dining, entertainment and amenities, all provided with the experience of exceptional customer service. As an award-winning destination leader offering international cruise vacations, Princess carries two million guests each year to more than 360 destinations around the globe on more than 150 itineraries ranging in length from three to 114 days. The company is part of Carnival Corporation & plc (NYSE/LSE: CCL; NYSE:CUK).
Recognized as one of the best cruise lines for romance, Princess Cruises has been synonymous with love since co-starring as the cruise line setting in the beloved series "The Love Boat," from 1977-1986. Today guests can enjoy a variety of activities to reconnect or fall in love, including the Ultimate Balcony Dinner, featuring a five course, freshly prepared meal served with Champagne on the privacy of their own stateroom balcony; The Sanctuary adults-only retreat; relaxing couples' treatments offered in the award-winning Lotus Spa; Chocolate Journeys, created by renowned chocolatier Norman Love offering decadent desserts and wine and chocolate pairings; romantic flicks under a blanket at the  "Movies Under the Stars" top-deck outdoor theater; and weddings at sea or renewal of vows ceremonies performed by the captain.