The Louisiana State Museum New Orleans' premiere heritage attraction, the Louisiana State Museum is comprised of several French Quarter landmarks and extensive permanent collections of artifacts and works of art. Established in 1912, the Museum is committed to preserving, presenting and promoting the State's unique culture and heritage. Through its exhibitions and activities it captures and showcases Louisiana's legacy of cultural diversity, historic events and charismatic traditions
The Cabildo (1799) A National Historic Landmark
Site of the signing of the Louisiana Purchase Transfer, the Cabildo reopened February 27, 1994 following a five-year, extensive restoration. It houses a new exhibition that traces Louisiana's past from exploration through Reconstruction from a multi-cultural perspective. Jackson Square.
The Presbytere (1797) A National Historic Landmark
Originally intended as a home for the priests of neighboring St. Louis Cathedral, the structure now houses permanent and changing exhibitions on Louisiana culture and history. Exhibits include architecture, maritime and military history, portraits and decorative arts. Jackson Square.
The Old U.S. Mint (1835) A National Historic Landmark The oldest existing U.S. Mint building, this large landmark now houses the State Museum's popular, permanent exhibits on Jazz and Mardi Gras. The Louisiana Historical Center, an archive of maps and documents, is also here. 400 Esplanade Ave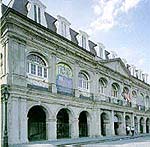 1850 House (1850) Lower Pontalba, A National Historic Landmark. This recreated antebellum town home located in the Baroness Pontalba's famous row house on Jackson Square is furnished with artifacts reflecting 19th-century New Orleans. It portrays middle class life during the most prosperous time in the city's history. 523 St. Ann St.
The Arsenal (1839)  Adjacent to the Cabildo and Madame John's Legacy, 1788, 632 Dumaine St., a National Historic Landmark, are used for special activities, exhibitions and events. The Creole House and the Jackson House, both built in 1842 and in the Cabildo complex, are used for educational and volunteer activities.
Tours and Viewing: All buildings are designed for self-directed viewing. Guided tours are available to groups on a reservation only basis. All buildings open Tuesday through Sunday, 9 a.m.- 5 p.m.
Admission fees: (Single building tickets:) Adults ($4) Senior Citizens ($3) Students ($3) Active Military ($3) Children 12-under (Free)…. Combination tickets: (all buildings) Adults ($10) Senior Citizens ($7.50) Students ($7.50) Active Military ($7.50) Children 12-under (Free) Group discounts available. For more information, contact. 504-568-8214 Louisiana State Museum http://www.crt.state.la.us/louisiana-state-museum
Haunted Travels in New Orleans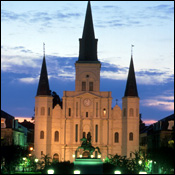 The Brave Priest The wealth of anecdotes makes it seem as if scarcely a block of the mile-square Quarter lacks ghosts, or "haints," as Orleanians like to call them. Visitors to the great, triple-spired St. Louis Cathedral on Jackson Square will learn that it was on this sacred ground that the sainted Father Dagobert defied the Spaniards in 1769 to secure a Christian burial for six insurgent parishioners. A short-lived revolt by the French-speaking colonists has been put down with particular vindictiveness, its leaders executed and left to rot under the guard of troops. But Pere Dagobert could not abide such sacrilege. Somehow he retrieved the bodies and took them into the nearby cathedral; perhaps the soldiers turned a blind eye to the man of God, or perhaps they even helped him.
Dagobert then gathered the martyrs' families, sang a proper mass for the dead, and led the cortege through a pounding rain to St. Louis Cemetery No. 1, not far from the Quarter, where the fallen were properly laid to rest. Even now, on rainy nights, the disembodied voice of the beloved Capuchin priest is said to sing hymns that can be heard along the streets between the cathedral and the cemetery. And people say that they've seen his spectral form floating along the aisles of St. Louis Cathedral itself
The Haunted House Colorful and cosmopolitan, sultry and sophisticated, garish and ghoulish. New Orleans is a veritable mélange, and its history contains more than a few skeletons in the attic. This was almost literally true in the case of one house, at 1140 Royal Street, that is notorious even by the bizarre traditions of the French Quarter. Built in 1831, the three-story edifice was the home of Dr. Louis Lalaurie and his fashionable wife Delphine, esteemed for her elegant balls as well as for her charitable work among the sick and the poor.
From time to time, it was true, guests of the Lalauries remarked among themselves about the haggard appearance of their hosts' slaves. And Madame Lalaurie was once fined by the authorities after a slave girl she was beating leaped to her death from the roof. But many people in the antebellum South tended not to worry about such matters. Attitudes shifted one day in 1834, however, when a fire broke out in the Lalaurie residence. Firemen smashed open a locked interior door and came upon a scene surpassing horror: There, chained and suffocating in the heat and smoke, were seven starved and severely beaten slaves. Upstairs, in a sort of macabre laboratory, the fire patrol found more slaves, some dead, others barely alive with limbs amputated or purposefully deformed. Preserved organs and other body parts completed the picture. When word spread that the elite Lalauries were ghouls and monsters, a mob of outraged citizens surrounded the house. But the Lalauries escaped, some said to France, and were seen no more in New Orleans. The abandoned building became known far and wide as the Haunted House. Neighbors were startled by the shrieks of terror echoing through the night and recoiled in fright as the vaporous forms of tormented slaves floated along the balconies; Madame Lalaurie, whip in hand, was said to appear on occasion, along with the piteous form of a little slave girl she had been savaging. In time, the abandoned house was restored. It first became a school for girls, then a music conservatory, finally a private domicile again. Residents there today do not complain of ghosts; perhaps after all these years the specters have faded to nothingness. But tour guides still point out The Haunted House to visitors in the Vieux Carré
Succor From the Grave Cities of the Dead figure in New Orleans' rich ghostly traditions as they do in most communities. But New Orleans' cemeteries rest on terrain remarkably accommodating to haunts.On dredged swampland between Lake Pontchartrain and the Mississippi River, the city is an average six feet below sea level. The water table was so high that early citizens despaired of burying their dead. Seeping water floated the coffins right out of the graves, so mourners filled the caskets with rocks or drilled holes in the them and hoped that the water itself might weigh down their loved ones. That did not work. The answer was to inter New Orleans' departed in marble and concrete tombs and crypts high, dry and secure above the oozy ground — Cites of the Dead where spirits could come and go at ease. Tales are legion of encounters in St. Louis No. 1 and Lafayette No. 1, the city's two oldest cemeteries, as well as in the various St. Josephs, St. Patricks, St. Vincents and St. Rochs. One story relates how a grieving widow fell asleep by the tomb of her husband in St. Louis No. 1 late one afternoon. When she woke in the night, her wondering eyes beheld a veritable convocation of ghosts: young, old, male, female, white, black, rich, poor — hundreds upon hundreds of them. Every tomb seemed to release a spirit. They were smiling, she saw, relaxed and happy, quite different from dwellers in the angry, hurly-burly world of the living. Her husband came to her. He was at perfect peace. She sorrowed no longer, knowing that one day she would be with him. Most other accounts are of single encounters, sometimes terrifying, but often gentle, comforting, even illuminating. Shortly after World War I, a young woman whose fiancé had perished was being hotly pursued by a suitor bent on marriage. Alone and confused, she went to the grave of her fiancé and remained there all night. As the hours passed, an owl materialized on silent wings and began dropping roses into her lap: a red rose, then a white rose, one after another until there were 14 red roses and 15 white ones. The young woman was puzzled at first, then the significance of the roses dawned on her: Fourteen red roses stood for the 14th letter of the alphabet; 15 white roses meant the 15th letter. Together they spelled "NO." The wise old owl, or perhaps the spirit of her beloved fiancé, was urging her not to marry the new suitor. She took the advice, and sometime later she learned that the man was a scoundrel, that he made a practice of courting gullible young women and abandoning them once he had his hands on their dowries.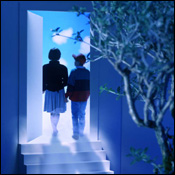 Mysterious Madame Other ghostly encounters have commonly occurred all through the city. Around 1900 in a fine house at 2606 Royal Street in the Fauborg Marigny, just north of the French Quarter, a grand Creole lady named Madame Mineurcanal unaccountably killed her cherished little white dog and then hanged herself from a beam in the third-floor stairwell. The house remained unoccupied for many years. But after World War II, a family known only by the names of two grandchildren, Ramon and Theresa, moved in and immediately began seeing the misty figure of a woman in a white dress descending the stairs, accompanied by a little white dog. For no reason at all, the children started calling the apparition "mini-canal,"
a fair approximation of the name Mineurcanal. No harm came to them, but when a visiting cousin took up the chant, he was heard screaming in the night and was found to have a scarlet cheek, as if someone had slapped him hard. On another night, the father turned in bed to embrace his wife only to clasp the figure of a phantom. And the pregnant wife had such a terrifying encounter with the lady in white that she almost lost her baby. After the child was born, a ghostly figure was seen bending over the crib doing what or attempting to do what no one could tell. Moaning sounds and the barking of a dog came from the attic, but investigation turned up nothing
New Orleans Ghost Tours: When you come to New Orleans we have for your twisted pleasure two tours that must not miss!' most unique and haunted night in the French Quarter a historical entertaining day of exploring "City Dead" await at end journey – http://www.neworleansghosttour.com
Ghost and Vampire Walking Tours in New Orleans historical documentation to provide an eerie evening walk of suspense into the dark edges of the historic French Quarter. Walk with us and find out why New Orleans is the most haunted city in the United States – http://www.neworleanstours.net/

The Mississippi River Steamboat

What's Cool: Even though it was first "discovered" by DeSoto in 1541, the Mississippi River is estimated to be more than 10,000 years old.
Mention the Mississippi and most people think rich plantations, immense mansions and the steamboat lives of old. Fortunately, travelers who want to recapture the Mississippi life so eloquently described by Mark Twain can still do so aboard one of the many Mississippi steamboats in operation today.
The steamboat was king for nearly a century. As many as 10,000 steamboats cruised America's rivers in the 1800s, earning the steamboat — and the Mississippi — a permanent spot in America's folklore. Today, a few remaining boats and their newer kin, decked out in the decor of the era, offer pleasure cruises that promise to give travelers a taste of river boat America in its heyday.
The boat may be the star attraction as the mode of transportation, but the route itself is nothing to scoff at. Providing drainage for about one-eighth of the entire continent, the Mississippi river system is North America's largest river and was once America's main highway. It cuts through 2,350 miles of America's heartland, rising in Minnesota's Lake Itasca and flowing south to the Gulf of Mexico. Along the way, it swallows up tributaries from the Missouri and the Ohio Rivers. Traveling its incredible length — from the clear, fresh headwaters in Minnesota to the meandering ribbon of the lower Mississippi — offers a look at an amazing diversity of geography, history and cultures.
Whether its a cruise along the Ohio River, with its rural vistas, the tranquil Cairo, home of storied Civil War sites, or through the Louisiana Bayou, a steamboat tour brings history to life in a charmingly nostalgic setting
There's never been a better time to rediscover America! And The Delta Queen Steamboat Co. has the greatest-and most unique-way to see the heartland of our great nation! Step aboard the legendary Delta Queen, the magnificent Mississippi Queen and the grand American Queen, the only genuine paddlewheelers plying America's rivers, for a journey brimming with fun, discovery and all-American heritage.
Come Savor Steamboatin': A unique blend of American beauty and history, its sumptuous river cuisine, lively "showboat" style entertainment, and the adventure of exploring Mark Twain's riverside America. Charming, historic river ports. Lively cities. Stately plantations. And what a unique way to discover them!
There's nothing quite like Steamboatin' on the rivers of America's Heartland. Gliding along at a stately 8 mph, your mind has time to wander-back to a time when life was a bit slower and more genteel, when these mighty rivers served as America's natural "highways," and an elegant paddlewheel steamboat was the epitome of travel.
A lot has changed since then. But Steamboatin' has always remained the same. There's a certain thrill that comes with boarding the paddlewheel steamboats of The Delta Queen Steamboat Co. As you cross the stage–the broad bow "gangplank"–you step into another era. It's a time of grace and civility, when people took the time to get to know one another among an ambience of luxury and elegance. When meals were triumphs of culinary arts, when service was impeccable, when the entertainment was lively and when each port of call afforded a unique glimpse into an America few experience.
Today you'll be pampered by an all-American crew ever at your beck and call, relax in an atmosphere of Victorian charm, dine on great American cuisine, explore historical, charming portsof call, and clap your hands to nightly professional "showboat" style entertainment. And each night as you settle into your comfortable stateroom, lulled to sleep by the gentle, distant rhythm of the paddlewheel, you'll dream of the adventures that await you the next morning.
You'll explore the richness of riverside America as you step ashore at historic ports of call such as lively New Orleans and stately Natchez, Mark Twain's Hannibal or cosmopolitan St. Paul, bustling St. Louis and gracious Louisville, charming Chattanooga and tuneful Nashville, friendly Cincinnati and dynamic Pittsburgh. Along the way, you'll reflect on the great events and people that have contributed to America's story at each of these and our many other ports.
Book now! Your Steamboatin' voyage of discovery awaits! Our all-American staff and crew look forward to welcoming you aboard as you experience the United States as you've never seen it before-from the decks of a genuine paddlewheel steamboat.
Atchafalaya Basin Swamp
HENDERSON, LA- Rent a houseboat from Houseboat Adventures, drift to your heart's content, as long as you like, in a vast, lonely and exotic swap. The brochure promises a relaxing getaway and a peaceful weekend in Cajun Paradise, nestled in the middle of the Atchafalaya Basin Swamp. You can spend happy hours reading, fishing, watching wildlife, exploring and relaxing. The arrangement is simple. The Houseboat Adventure owner tows the houseboat with you aboard out into the Atchafalaya Spillway and leaves you there. He provides a "bateau" (a small flat boat) for side excursions. If you are so inclined you can bring your own boat along. Folks who have spent days aboard the 'Allons Danser Colinda' assure me the experience surpasses everything the brochure promised. The houseboat has two futon couch double beds, a full size bunk, bathroom with hot shower, two swings, two rocking chairs and a barbecue pit on the front porch. The kitchen has a four-burner stove and double sink. No refrigerator, only an ice chest. Dishes, glasses, coffee pot, flatware, pots and pans are provided. Bed linens, towels, wash cloths, toilet paper and paper towels are included, as well as color TV and VCR. Life jackets and a paddle, too, just in case.  Passengers need to bring food, drinking water, ice, charcoal for the grill, sporting equipment and personal items. The houseboat has its own generator and air-conditioning unit. Sometimes its nice to turn the generator off and simply listen to the quiet.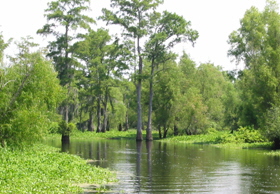 The Atchafalaya is home to deer, coyotes, black bears, bald eagles. racoons, squirrels, foxes, turtles and nutrias. Nutrias were imported for their fur by the McIlhenny family of Tabasco fame in the early part of the century as part of an experimental project. Some of the animals escaped during a hurricane and their proliferation is now infamous. The damage they do to Louisiana swamps is extensive. The world's second-largest rodent looks like a cross between a beaver and a wharf rat. The creature has webbed feet, a long, hairless tail, copper colored pelt, and curved front teeth for gnawing. Sixty-five species of reptiles and amphibians live in the swamp. Watch out for alligators floating by like heavy logs. Ninety species of fish, crawfish, crab, and shrimp support an active sea food industry. Based on surveys by the Corp of Engineers and the Louisiana Department of Wild Life and Fisheries, the value of the floodway's fish, wildlife and related recreational resources is approximately $97 million annually. Spot the blue herons and white egrets that stand gracefully on cypress stumps. Ducks and coots are among the 300 species of birds inhabiting the swamp. The largest wintering population of woodcocks in North America nest alongside 50,000 egrets, ibises, and herons. The highest concentration of bald eagles in South Central United States is found in the Atchafalaya Swamp. The watery area is a bird watcher's delight. The Atchafalaya, considered the last great river basin consists of 860,00 acres of swamp, lakes and river prairies. The basin is criss-crossed by canals carved out by the logging and oil companies. Many narrow, shallow channels are an adventure to explore. The narrow waterways open into hidden lakes teaming with wild life.
The Atchafalaya runs east to west from Lafayette to Morgan City, 70 miles, and north to South from Baton Rouge to the Gulf of Mexico, 120 miles. In 1920, the discovery of oil and gas brought the swamp national attention. In 1927 the Great Flood triggered a mass exodus from the area. The U.S. Army Corp of Engineers erected two large flood gates at the intersection of the Mississippi and Atchafalaya Rivers, creating a five-mile wide floodway as an outlet for the raging river waters. In 1973 an 18-mile bridge across the swamp on I-10 permanently linked Acadiana with the rest of the state. If you don't spook easily, the nights are particularly enjoyable. No lights, and stars glittering in the inky blackness. Astounding quiet and tremendous peace. Take your digital camera or the old 35 millimeter and capture the majesty of the swamp on film: 800-year old cypress trees surrounded by a circle of knobby knees, some five feet tall; Spanish moss draped over fresh water bald cypress, red maple, black willow and water tupelo; a duck in flight; a half-way submerged alligator. I highly recommend this Louisiana excursion. Easy to reach. Rich in natural wonders. Put Atachafalaya on your agenda. Go soon.
IF YOU GO:
Louisiana Wetlands are a fascinating ecosystem drawing visitors from around the world. Swamp tours have become an integral part of Louisiana's tourist industry. Tours range from traditional one-day boat rides through swamps and bayous, to walks on the wild side, extended stays, or airplane flights over this unique landscape.
GETTING THERE: Houseboat Adventures operates three houseboats out of the Cypress Cove Landing on Henderson Lake. Take I-12 West, Exit 115 at Henderson. Drive through Henderson, turn right onto Levee Road. Cypress Cove Landing is the fifth landing on the left.
COST: Houseboat rentals require a minimum two-night stay on weekends. The rate is $145 plus tax per night for the small houseboat 18′ x 36′. Does not include $25 towing fee. Each boat can accommodate six people. Boats can be rented 3 or 5 nights, 1 week, or 1 month.
NEARBY PLACES TO EAT: All noted for fresh seafood and Cajun flavor. Landry's, Little Capital, Pat's Seafood.
WHAT TO TAKE: Comfortable clothes, suntan lotion, hat, sunglasses, insect repellant, camera, food, and personal items.
MORE INFORMATION: Houseboat Adventures. Cypress Cove Landing P.O. Box 42 Breaux Bridge, La. 70517 Phone: (337) 228-7484 or -800-491-4662  Houseboat Adventures
Louisiana Atchafalaya Basin Program
http://dnr.louisiana.gov/index.cfm?md=pagebuilder&tmp=home&pid=494&pnid=0&nid=273
TICKFAW STATE PARK
The newest addition to the Louisiana park system is Tickfaw State Park near Springfield. From I-55 take the Ponchatoula-Springfield exit, drive west on La. 22 to the first stop sign in Springfield, take a left, go two blocks and turn right onto Hwy. 1037 (across from Piggly Wiggly, downtown Springfield), go seven miles and take a left onto Patterson Road which dead ends into the park. The entrance to the park is nicely landscaped and well lighted. The entry fee of $2.00 per car with four people is reasonable enough. Any additional customers are $.50 per person. Seniors get in free.
Park roads wind around 1200 acres of preserved nature. The RV and Tent Camping areas have 50 spaces with electricity, water, fire ring, and picnic table per slot. Four are handicap sites. Campers have bath house and laundry facilities. The group cabin has two dormitories, commercial kitchen, cafeteria, and sleeps 52 guests.
The 14 individual cabins (mine was No. 3) aren't cabins at all, but spacious, air-conditioned buildings that sleep eight comfortably. The living room has a fireplace. The kitchen is completely equipped. The furniture, linens and dishes still smell new and nothing is shopworn. The wide screen porch overlooks a cypress swamp.
Canoes can be rented by the hour or the day. For $25 the rental-shuttle package drops the canoes off at the northwest corner of the park in the "pine upland" area. The canoeists paddle down river through pines slopes, hardwood bottom lands, and cypress soughs and swamps. In many places the water is so clear the sandy bottom is visible. The trip takes five hours.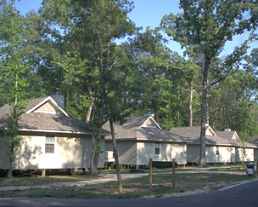 Tickfaw River north of La. 22 is a quiet stream, narrow in places, the current gentle, the water crystal and cool like iced tea. Only the chirping of birds or a paddle rippling the water disturbs the quiet.
River birch, ash, catalpa, hackberry, cypress, tupelo and water oak draped with Spanish moss shade the river from the hot sun.
The Nature Center has three education pavilions, an outdoor amphitheater, an introductory video presentation, interactive learning exhibits and a big aquarium. Guides lead nature walks. Rangers describe plant and animal life.
At night the stars are bright. The swamp comes alive. Frogs croak, crickets chirp, and the the loud, discordant sound of an owl joins the symphony.
The park employs 20 people including 3 park rangers, housekeeping, maintenance, and the nature center staff.
If you're interested in visiting Tickfaw State Park, go quickly, before the heat of summer descends, the mosquitoes come out, the caravan of RVers arrives, and people swarm all over this tranquil, idyllic spot.
Notes: Park Address: 27225 Patterson Road, Springfield, La. 70462-8906
Entrance fee: $2 per vehicle (4 people). $.50 for each additional passenger.
Seniors and school groups on field trips, free. Camp Sites: $12 per night. Tent sights: $10 per night. Cabins: 14 air-conditioned cabins, 2 handicap accessible. $65 per night. Sleeps 8. Nearest grocery/gas. Texaco Station on Hwy 1037.
Phone: 1-888-981-2020 (toll free) 225-294-5020 (locally) 1-887-226-7652 (Reservations) Web site:www.crt.state.la.us (click State Parks, click Tickfaw State Park)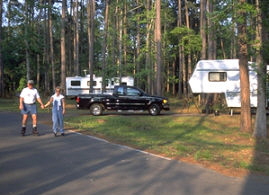 Nature-Perfect Setting: Four Distinct Eco-Systems
Strolling through four ecosystems on over a mile of boardwalks through Tickfaw State Park, visitors can experience the sights and sounds of a cypress/tupelo swamp, a bottomland hardwood forest, a mixed pine/hardwood forest and the Tickfaw River.
Snowy Egrets and Great Blue Herons can be seen gathering crawfish and other food amid a mix of palmetto, wax myrtle and native azalea. Sightings of turtles, snakes, squirrels, opposums, songbirds, wild turkeys, and migratory waterfowl, as well as tracks of beaver, coyote, deer, fox, and racoons, offer the possibility to encounter wildlife less than an hour from Louisiana's capital city
The adventurous can explore the park's backwater swamps and dark-watered sloughs that form the wetland network created by the Tickfaw River.
Periodically the park site serves the region by detaining floodwaters when winter and spring rains overflow the steep banks of the Tickfaw River. These periods of occasional flooding offer a unique opportunity to educate visitors on the importance of periodic flooding in the cycle of life that makes wetlands an invaluable habitat and breeding ground for wildlife and fisheries.
Eco-Education
Check posted program schedules for guided hikes on the boardwalks, or you may prefer the more relaxed approach offered during a nature program presentation at one of the three education pavilions and an outdoor amphitheater at the nature center. You can also join a nighttime program, go night hiking or listen to the swamp nightlife from the porch of your vacation cabin.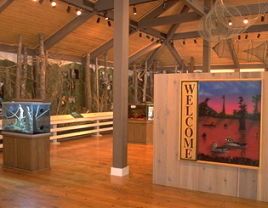 Bicycle, stroll, or skate the interconnecting park roadways. Rent a canoe and take a fun-filled trip on this unique section of the Tickfaw River. Visitors can bring their own canoes or rent ones supplied by an available canoe vendor. Even Louisiana residents who are familiar with the upper sandy creek-like nature of the Tickfaw River, or the lower stretches where the river broadens and flattens into a tital waterway, will not recognize this narrow, twisting section of the river. Shaded by trees that stabilize this section, the Tickfaw River cuts through the heart of the park. On the opposite shore are approximately 600 undeveloped park acres for future trails and remote adventures.
Teachers can utilize the park as a classroon for day trips. Park naturalists offer materials and leadership to initiate the learning process in the classroom and provide the follow-up on site. Nature programs for families and tour groups are also available. And after you've seen the park in the fall, come back for the winter, spring and summer seasons for a completely different look
Stay Awhile
Overnight visitors can stay at one of 14 vacation cabins that overlook a cypress swamp. Each air-conditioned, two-bedroom cabin sleeps eight persons and includes a fireplace, fully-equipped kitchen and bathroom. Thirty campsites with water and electricity, fire ring and picnic table are available for recreational vehicle owners. An additional 20 tent campsites offer a tranquil setting for tent campers. A climate-controlled bathhouse and laundry facility are also available for camper use.
A Group Camp accommodates up to 52 visitors in two spacious dormitory wings, each wing served by private bath facilities. The dormitories flank a dining hall and central kitchen, furnished with commercial cooking equipment.
Day-use visitors can reserve a covered picnic shelter to enjoy a traditional crawfish boil or an old-fashioned family picnic. A canoe launch at the north end of the park and a canoe landing with parking area in the heart of the park afford convenient access to the Tickfaw River.
A gift shop in the Nature Center (open 9 a.m. to 5 p.m. daily) offers souvenirs with a local flavor.
Cultural History
Originally inhabited by the Mississippian-era tribes, the area's first European settlers were French. Springfield grew out of a trading post on the Old Spanish Trail and became a shipping center. The Natalbany and Tickfaw rivers were used to transport cotton and timber to New Orleans.
The contemporary agricultural character was created by logging operations which left virtually no area untouched. Early settlers utilized much of the cleared acreage to establish a rich agricultural community. Truck farming crops such as strawberries, sweet corn, cucumber and peppers are area favorites. Pick-your-own berry farms are popular with tourists and residents beginning in December with Louisiana's favorite strawberries and continuing through early summer when blackberries and blueberries are in season. Logging and forest product industries remain an important part of the local community.
A Short Drive
Only a short drive from Baton Rouge, Hammond and New Orleans, Tickfaw State Park is located just seven miles southwest of Springfield on the Tickfaw River.
Tickfaw State Park–27225 Patterson Road, Springfield, LA 70462-8906; 225-294-5020 or 1-888-981-2020) is located 32 miles east of Baton Rouge. Take I-12 to the Albany/Springfield exit. Travel 2 miles south on LA 43, merge with LA 42 and continues one mile to the center of Springfield. Turn west on LA 1037 and travel six miles to Patterson Road (across from Woodland Baptist Church), then south 1.2 miles to the park entrance.
For an alternate route from Baton Rouge, take the Holden/Hwy. 441 exit, turning south onto Hwy. 441. Travel 2 miles and turn east onto Hwy. 42. Travel 1.3 miles and turn south onto C.C. Hutchinson Road (at the gas station), and go 3 miles and turn west onto Hwy. 1037/Blood River Road. Follow 1037 for about 2 miles to Patterson Road (across from Woodland Baptist Church), then south 1.2 miles to the park entrance.
Tickfaw State Park is a unique 1200-acre park located along three miles of the Tickfaw River. The park offers diverse recreational, nature and educational opportunities. To reserve a cabin, campsite, group camp or picnic pavilion
source: http://www.lastateparks.com