Tampa Bay…no better way to do Florida. You want Florida, you want it all. No problem. You want Tampa Bay. This vibrant waterfront destination on Florida's beautiful West Coast has it all in one place. Roar down roller coasters in the morning; row down the nature rich Hillsborough River in the afternoon. Catch a ball game from the bleachers or catch some rays on the beaches. Explore African animal habitats at Busch Gardens or follow a drop of water off shore to the depths of the oceans at the Florida Aquarium. Go below the surface of a crystal clear lagoon and view the graceful motion of the endangered manatee at the Lowry Park Zoo, then surface to explore the rich diversity of Tampa Bay's waterfront cafes, art galleries, and historic Ybor City, where the colorful streets are lined with fun and the Cuban sandwiches are hot and crisp. What next? sport fishing, jet skiing, parasailing, boating…and, oh yes, the most succulent seafood under the sun.
Tampa reflects the mosaic of different cultures and influences that made it the dynamic urban center it is today. The coexistence of the quaint historic villages with sleek skyscrapers is evidence of this rapidly growing city's success at reconciling its rich history with modern-day development. The kaleidoscope of activity ranges from its bustling port brimming with shrimp boats, banana barges and cruise ships, to its festive marketplaces, and its multi-ethnic restaurants and shops.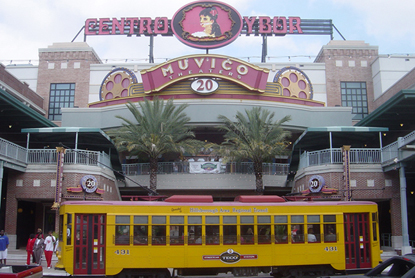 Be sure to stop by historic Ybor City, where 100 years of decayed elegance has been restored to antique splendor. Vicente Martinez Ybor and Cuban immigrants established this "city within a city" in the 1800s, building it on the cigar industry. Stroll the quaint streets and breathe in the aroma of freshly baked Cuban bread drifting out of the local bakeries and restaurants. Visit Ybor Square where Cuban cigar makers demonstrate their ancestors' craft. At night, La Séptima (Seventh Avenue), the main stretch, is shut off for pedestrians as revelers fill the streets of Ybor, club hopping at the many trendy nightspots. Eclectic art galleries, mom-and-pop stores, wrought iron balconies and brick sidewalks enhance this delightful glimpse at Tampa's Cuban culture.
Busch Gardens Tampa Bay is listed among the nation's top four zoos. Besides exotic animals, Busch Gardens also features live shows and a variety of thrilling rides including their newest attraction, Gwazi, the Southeast's largest double wooden roller coaster. The water park Adventure Island offers exciting flumes and slides as well as a leisurely tubing trail. For more family fun, stop by Lowry Park Zoo or the Museum of Science and Industry, which offers interactive educational exhibits as well as an IMAX theater. The Florida Aquarium, set along the picturesque waterfront, displays marine life and natural Florida habitats in an educational and entertaining fashion. The Henry B. Plant Museum (now the University of Tampa), is one of the finest examples of Moorish architecture in the Western Hemisphere. The Tampa Museum of Art and the Tampa Bay Performing Arts Center offer rotating exhibits and a stunning season of performing arts. If you enjoy spectator sports, the Tampa Bay Buccaneers (football), the Tampa Bay Lightning (hockey), Tampa Bay Storm (arena football), Tampa Bay Downs and Tampa Greyhound Track offer a wide variety of excitement.
Tampa's restaurants reflect its cosmopolitan character. Spanish, Southwestern, Italian, Asian, continental and seafood restaurants abound. Shopping can be enjoyed in a variety of settings. Old Hyde Park Village, nestled in one of the city's oldest neighborhoods off picturesque Bayshore Boulevard, is an elite shopping area with exclusive boutiques and cafés. Brandon is home to a large shopping district and mall. Tampa is surrounded by several notable communities including Dover, Hamilton, Plant City, Riverview, Ruskin, Apollo Beach and Thonotasassa.
Tampa, a city of west-central Florida on Tampa Bay, an inlet of the Gulf of Mexico. First visited by Spanish explorers in 1528, Tampa is a port of entry, a processing and shipping hub, and a tourist center. Tampa is Florida's third most populous city, and its chief treasure is its diversity. The city today combines elements of the Italian, Spanish, Indian, Cuban, and African American cultures that reflect its historical development and give Tampa a cosmopolitan flair. Its warm, sunny weather, Gulf Coast location, abundant labor supply, and spirit of cooperation between the public and private sectors have made it a very attractive choice for companies wishing to expand or relocate. The influx of new businesses and residents has in turn revitalized the city, sparking a multibillion-dollar construction and renovation boom that combines the best of old Tampa with dynamic new structures to better serve the growing community. Tampa is proud of its accomplishments and excited about the future.