Valentine's Day
Valentine's Day, also called Saint Valentine's Day or the Feast of Saint Valentine, is celebrated annually on February 14. Originating as a Western Christian feast day honoring one or two early saints named Valentinus, Valentine's Day is recognized as a significant cultural, religious, and commercial celebration of romance in many regions around the world, although it is not a public holiday in any country.
Martyrdom stories associated with various Valentines connected to February 14 are presented in martyrologies, including a written account of Saint Valentine of Rome's imprisonment for performing weddings for soldiers, who were forbidden to marry, and for ministering to Christians persecuted under the Roman Empire. According to legend, during his imprisonment Saint Valentine restored sight to the blind daughter of his judge, and before his execution he wrote her a letter signed "Your Valentine" as a farewell.
The day first became associated with romantic love within the circle of Geoffrey Chaucer in the 14th century, when the tradition of courtly love flourished. In 18th-century England, it evolved into an occasion in which lovers expressed their love for each other by presenting flowers, offering confectionery, and sending greeting cards. In Europe, Saint Valentine's Keys are given to lovers "as a romantic symbol and an invitation to unlock the giver's heart", as well as to children, in order to ward off epilepsy. Valentine's Day symbols that are used today include the heart-shaped outline, doves, and the figure of the winged Cupid. Since the 19th century, handwritten valentines have given way to mass-produced greeting cards.
Courtly love was a medieval European literary conception of love that emphasized nobility and chivalry. Medieval literature is filled with examples of knights setting out on adventures and performing various services for ladies because of their "courtly love". This kind of love is originally a literary fiction created for the entertainment of the nobility, but as time passed, these ideas about love changed and attracted a larger audience. In the high Middle Ages, a "game of love" developed around these ideas as a set of social practices. Courtly love began at the end of the eleventh century. In essence, courtly love was an experience between erotic desire and spiritual attainment.
Saint Valentine's Day is an official feast day in the Anglican Communion and the Lutheran Church. Many parts of the Eastern Orthodox Church also celebrate Saint Valentine's Day, albeit on July 6 and July 30, the former date in honor of the Roman presbyter Saint Valentine, and the latter date in honor of Hieromartyr Valentine, the Bishop of Interamna (modern Terni).
Saint Valentine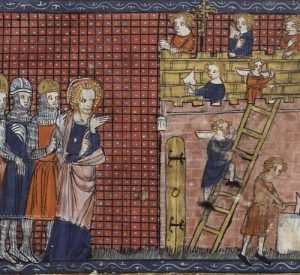 Saint Valentine, Born Latin anno Domini, AD 226 (Terni), Died 14 February 269 (Rome), is officially Saint Valentine of Rome is a widely recognized 3rd-century Roman saint commemorated on February 14 and since the High Middle Ages is associated with a tradition of courtly love.
All that is reliably known of Saint Valentine, commemorated on February 14 is that he was martyred and buried at a cemetery on the Via Flaminia close to the Ponte Milvio to the north of Rome on that day. Saint Valentine's Church in Rome, built in 1960 for the needs of the Olympic Village, continues as a modern, well-visited parish church.
Because so little is reliably known of him, in 1969 the Catholic Church removed his name from the General Roman Calendar, leaving his liturgical celebration to local calendars. The Roman Catholic Church continues to recognize him as a saint, listing him as such in the February 14 entry in the Roman Martyrology
The Catholic Encyclopedia and other hagiographical sources speak of three Saint Valentines that appear in connection with February 14. One was a Roman priest, another the bishop of Interamna (modern Terni, Italy) both buried along the Via Flaminia outside Rome, at different distances from the city. The third was said to be a saint who suffered on the same day with a number of companions in the Roman province of Africa, of whom nothing else is known.
Though the extant accounts of the martyrdoms of the first two listed saints are of a late date and contain legendary elements, a common nucleus of fact may underlie the two accounts and they may refer to a single person. According to the official biography of the Diocese of Terni, Bishop Valentine was born and lived in Interamna and while on a temporary stay in Rome he was imprisoned, tortured, and martyred there on February 14, 269. His body was hastily buried at a nearby cemetery and a few nights later his disciples retrieved his body and returned him home. Τhe Roman Martyrology, the Catholic Church's official list of recognized saints, for February 14 gives only one Saint Valentine; a martyr who died on the Via Flaminia.
What does BC and AD stand for?
AD (Latin anno Domini), in the year of the Lord or in the year of our Lord, used to specify numbered years counting from the once estimated birth of Christ in year 1. (AD 1)
B.C. stands for Before Christ, and it means the number of years before the birth of Jesus Christ.