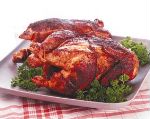 Barbecue Sauce, Marinades and Rub Recipes
By mid-summer, you might have half-a-dozen barbecue sauce bottles in your fridge and still be looking for something new. Making your own barbecue sauce is not only less expensive, it's easier than you might think; most of these sauces, rubs and marinades take just a few minutes to put together. A good barbecue sauce has a few basic elements: vinegar for tang, sugar for sweetness and spices for flavor. The particular ingredients you use make all the difference in taste.
Use a sauce to baste with in the last few minutes of cooking to prevent it from burning before the food is done. Sauces can also be served on the table as a condiment. Marinades are the key to cooking economical cuts of meat that need tenderizing and add big flavors. Rubs create a crust of flavors that stand up well during cooking. For extra power, apply a rub a few hours before cooking.
Honey Barbecue Sauce
Busy summer days cry out for quick dinners — this tangy sweet sauce will be the kind of help you need
Ingredients
6  ounces tomato paste
1/2  cup honey
1/4  cup red wine vinegar
1/2  teaspoon dry
Directions: In a small bowl using a wire whisk, blend tomato paste, honey, vinegar and mustard. Stir until thoroughly blended. Refrigerate until used
Pit Barbecue Sauce
Grilling doesn't have to be seasonal. The flavors from a grill can be enjoyed all year long with the addition of a great barbecue sauce.
3 tablespoons vegetable oil
1 medium onion, minced
2 cloves garlic, peeled, crushed
2 cups ketchup
1 cup cider vinegar
1/2 cup packed brown sugar
2 teaspoons salt
1 teaspoon ground black pepper
1/2 teaspoon liquid hot pepper sauce, (or to taste)
Heat oil to a medium saucepan over medium-high heat; add onion and garlic and sauté until onion is tender. Add remaining ingredients and bring to a boil. Reduce heat to simmer and cook for 10 minutes or until slightly thickened. Remove from the heat, and cool. Use as a basting sauce for grilled meats
Teriyaki Marinade for Steaks
Soy sauce, Worcestershire sauce and garlic give this marinade robust flavor while the brown sugar adds a touch of sweetness
1/2 cup rice wine vinegar*
1/2 cup brown sugar
1/4 cup ketchup
1/4 cup soy sauce
2 tablespoons CROSSE & BLACKWELL® Worcestershire Sauce
1 teaspoon prepared mustard
1/2 teaspoon garlic salt
1/8 teaspoon ground black pepper
Combine vinegar, sugar, ketchup, soy sauce, Worcestershire sauce, mustard, garlic salt and pepper in a medium bowl. Use to marinate steak or other cuts of beef.
*Rice wine vinegar is the vinegar of choice for purists, however red wine vinegar, sherry or pineapple juice can be used just as well.