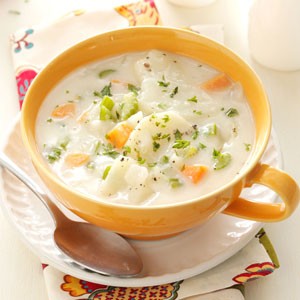 Ingredients:
1/4 cup (1/2 stick) margarine
4 large Russet potatoes, peeled, cut into small cubes (about 4 cups)
5 cups water
1 pkg. (8 oz.) PHILADELPHIA Cream Cheese, cubed
1/2 cup half-and-half
salt and black pepper
Preparation
MELT margarine in large stockpot. Add potatoes and water. Cook 25 minutes or until potatoes are tender. Remove from heat; cool to room temperature.
PLACE 1/2 of the potato mixture in blender container; cover. Blend until pureed. Return to stockpot. Repeat with remaining potato mixture. Cook over medium heat until thoroughly heated, stirring occasionally.
ADD cream cheese and half-and-half; cook just until cream cheese is completely melted and mixture is well blended. Season with salt and pepper to taste. Garnish with chopped fresh chives just before serving