Pass Christian offers some of the prettiest beaches with fewer crowds, view unforgettable historic homes and magnificent oaks during your time in "The Pass". The area's unique way of life is defined as relaxed and resolute, casual and carefree. If you're aiming to find a friendly and laid back atmosphere, Pass Christian is the best place to start. The area has plenty of small town charm to take in. Pass Christian has charming downtown areas with local restaurants and coffee shops. Traveling with kids? The Lynn Meadow's Discovery Center is a great way to spend the day with kids or grandkids.
More than lying on the the area' warm white sand beach soaking up the sunshine, the region offers an exciting mix of unbelievable cuisine, outdoor activities, entertaining nightlife, intriguing history and stunning scenery. Take an area cruise that offers visitors a choice of  day cruise, dinner cruise, or fishing charters.
Pick up a one-of-a-kind antique or gift from a range of local retailers or grab a fresh brewed coffee local coffeehouse, with an incredible view of the Mississippi Sound.  Only fifteen minutes east are the Gulfport Premium Outlet stores, with name brands such as Gap, Coach, Ralph Lauren, Banana Republic, J. Crew and Levi Jeans. Right across the interstate is Crossroads Shopping Center with Barnes and Noble, Belk and TJ Max. Take in a movie at Cinemark while you're there too.
The Mississippi Gulf Coast is the perfect destination. 'Cause around here, you make more than just afternoon plans. You make memories full of adventure and excitement/ Here, you'll never run out of things to do.
Nature & Parks…
Pass Christian Harbor
The Pass Christian Harbor offers both commercial and Pleasure craft slips of various sizes, The Ricky Levy West Harbor Park features two covered pavilions with grills and playgrounds and beach volleyball. Great place to chill by the water.
Address: 115 Market St, Pass Christian  |  Website
Pass Christian War Memorial Park
War Memorial Park is Pass Christian's central park which was organized in 1945 in memory of young men from the city who served in World War II. The park includes a monument dedicated to those who served in the armed forces. The park also has playgrounds, a recreational walking and exercise track, a gazebo, and a number of unique tree sculptures created by artist Marlin Miller, including a soaring eagle dedicated to Tuskegee Airman Col. Lawrence E. Roberts.
Address: Highway 90 & Flietas Avenue, Pass Christian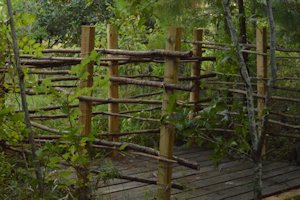 Enchanted Nature Trail at Henderson Point
Experience the wonder of nature through the interactive and educational Enchanted Nature Trail at Henderson Point. Designed with children in mind, the trail contains different interactive play stations including the marsh overlook, story circle, insect hotels, animal wood carvings and sign posts, and the vine tunnel. Visitors are encouraged to create nature collages and fairy houses along the trail and in the story circle area. A "fairy" house is situated near the story circle to provide storage for various items including paper and crayons for tree ring etchings, a variety of nature scavenger hunts, and other materials for schools and educational groups.
Trail is located near the intersection of U.S. Highway 90 and Fort Henry Road in Pass Christian, MS. Turn North onto Fort Henry Road from U.S. Highway 90 and you will see a driveway on your left that leads to the parking area.
Address: Fort Henry St, Pass Christian  |  Website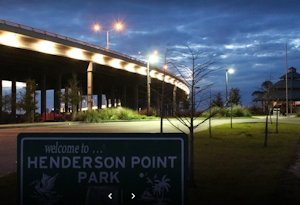 Henderson Point Park
Wonderful for the children. Located under the bridge it keeps the sun off the children and allows you to relax in the shade while the children play in a safe and clean park. Nice clean place and a big playground. "No bathrooms but all in all its really beautiful and not usually busy".
Address: 1-99 Ponce De Leon Blvd, Pass Christian
Offshore…
Cat Island – Bachelor's Cove
A beautiful, secluded beach adventure. Great for taking the family. Cat Island is partially owned and managed by the National Park Service. The island is accessible by private boat only, and is a great site for wildlife viewing, especially bird watching, swimming, and picnicking. Visitors may primitive camp on this island. Cat Island is accessible only by private or chartered boat.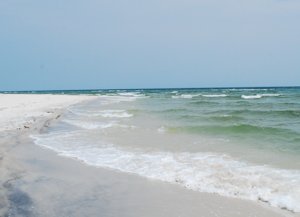 Ship Island – Fort Massachusetts
Ship Island is 85 acres and the collective name for two barrier islands, part of Gulf Islands National Seashore: East Ship Island and West Ship Island. Hurricane Camille split the once single island into 2 separate islands in 1969. West Ship Island serves as a tourist destination. Activities include fishing, swimming, and tours of Fort Massachusetts. The fort was built following the War of 1812, with brick walls during 1859-1866, and remained in use until 1903.
West Ship Island is accessible through private or chartered boat. It is also accessible by a privately owned ferry boat company, Ship Island Excursions, running from Gulfport, Mississippi 12 miles (19 km) out to the island for a fee. Ship Island Excursions has been running boats to the island since before the National Park Service acquired the island. Today, they are an official Park Service Concession. East Ship Island is accessible only by private or chartered boat.
Horn Island
This island is a designated wilderness zone, accessible by private boat only, which makes it ideal for wildlife viewing, especially bird watching. Visitors may primitive camp on the island; however groups of 10 or more must obtain a permit prior to their arrival. There are no facilities or services, including lifeguards, on Horn Island. Horn Island is only accessible via private boat.
Gulf Islands National Seashore Website (U.S. National Park Service)
Outdoor Activities…
Pass Christian Isles Golf Club
The 18-hole "Pass Christian Isles" course at the Pass Christian Isles Golf Club facility in Pass Christian, Mississippi features 6,456 yards of golf from the longest tees for a par of 72. The course rating is 71.3 and it has a slope rating of 124. Designed by Tom Bendelow, the Pass Christian Isles golf course opened in 1952.
Address: 150 Fairway Dr. Pass Christian, MS 39571
Phone:  (228) 452-4851  |  Website
The Oaks Golf Club
The Oaks Golf Club is nestled amongst majestic timberlands and native wetlands providing one of the most unforgettable golfing experiences on the Mississippi Gulf Coast. Highlighting the striking par-72 layout is strategic bunkering, dramatic green complexes, and a meandering routing, which creates a serene and tranquil golf experience.
Address: 24384 Club House Dr, Pass Christian
Phone:  228-452-0909  |  Website
Cruises and Charters…
Ship Island Excursions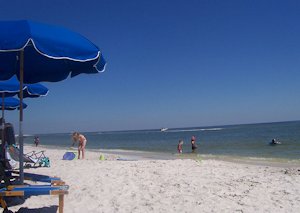 Ship Island Excursions offers daily passenger ferry service to West Ship Island and Fort Massachusetts. The cruise to the barrier island takes about an hour one way, and dolphin sightings are frequent during the boat ride! Food service, chair, and umbrella rentals are available on the island. Spring cruises begin March 17 and go through May 11 departures Wednesday-Friday 9am from Gulfport, Saturday-Sunday 9am and 12 noon. Summer cruises are May 12-August 12 daily departures from Gulfport at 9am and 12 noon. Fall cruises are August 15-October 28 departures Wednesday-Friday 9am from Gulfport, Saturday-Sunday 9am and 12 noon. Ship Island Excursions is located in the Gulfport Yacht Harbor near the intersection of Highway 49.
Address: 1022 23rd Ave. Gulfport
Phone: 228-864-1014  |  Website
Southern Way Charters
Southern Way Charters has been offering outdoor experiences offers a wide range of outdoor adventures. From Pass Christian Harbor, is the home port of the 54' Southern Cross which takes clients to the Chandeleur Islands, a group of barrier islands off Mississippi coast, Also offers light tackle fishing charters inshore and near shore fishing trips, offshore fishing.
Phone:  228-323-5217  |  Website
North Star Sailing Charters
Set sail on the beautiful Mississippi Sound and Gulf of Mexico with a private charter for up to 6 passengers aboard Kashmir a 2006 40′ Catalina Sailboat. Offer Day Charters, Sunset and Moonlight Cruises, Dinner Cruises, Half Day and Full Day Charters for your Gulf Coast Vacation.
Address: 2250 Jones Park Drive. Gulfport (Located in Jones Park, Gulfport Municipal Marina)
Phone:  (228) 617 – 8057  |  Website
Set Sail Away-Day Cruises
offer a full service crew, including USCG licensed officers and wait staff to attend to your every need on our day cruises and vacation charters. This is a wonderfully economical way to enjoy a full day of sailing! Lunch, snacks, water and soda are provided.
Phone:  228-596-1670  |  Website
La Dolce Vita Cruises
Private luxury yacht charters for up to 6 passengers on a 48′ motor yacht. Enjoy 2.5, 4 or 6 hour charters as you see spectacular sunsets, dolphin and other marine life, and experience the serenity of the sea. Charter date and time are scheduled with you to meet your needs and wishes. Daytime and evening cruises available. Perfect for couples or groups of family members and/or friends.
Address: 1133 20th Ave., Pier 6, Slip 1, Gulfport Harbor, Gulfport
Phone:  228-207-0129  |  Website
Captain Ron's Charters
Captain Ron's has the largest fleet of charter vessels on the Mississippi Gulf Coast with a trip package for just about anyone! From inshore light tackle, wade fishing the barrier islands, to deep wreck fishing. Captain Ron's has been one of the Coast most popular charter operations for over 27 years.
Address: 2250 Jones Park, Gulfport
Phone:  228-860-4308  |  Website
Fisher-Man Guide Service
Whether it's fishing, floundring, or site-seeing, simply let us know what type of trip you are interested in and we will create a charter catered to your needs and set up a time that is convenient to you.
Address: 115 Market St. Pass Christian
Phone: (228) 323-1115  |  Website
​​OutKast Charters
Inshore Fishing Charter and Guide Service which operates on the Mississippi Gulf Coast and into the Louisiana Marsh! Our experienced captains know what it takes to provide you with the trip of a lifetime. Whether you're fishing Speckled Trout, Red Fish, Flounder, Tripletail or other saltwater species, we can put you on the fish
Phone: 228-233-7760  |  Website
Entertainment, Sights & Landmarks…
Gulf Islands Waterpark
Gulf Islands Waterpark features wild rides, miles of slides and cool summer fun for all ages. Huge seasonal waterpark with slides, rides & pools plus cafes & rental cabanas amid an island theme.
Address: 17200 16th St, Gulfport
Phone: (228) 328-1266  –  Website
Zip'N Fun Adventure Park
Experience a Squirrels Eye View of nature by making your way through our 50 game, Tree-To-Tree obstacle course. You will be physically challenged to climb and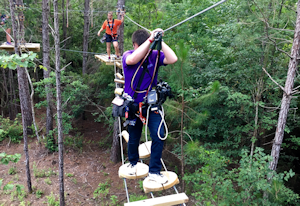 cross tight ropes, wobbly bridges, swinging logs, nets, zip lines and more. The aerial trails with platforms and games will become more challenging as you progress at your own pace. Whether you are 5 or 75, harness-up and clip-in for a day of ZIP'N FUN!
Address: 13100 16th St, Gulfport
Phone: 228-206-7056  –  Website
Big Play Entertainment Center
Outdoor amusement center with 2 mini-golf courses plus bumper cars, Go-Karts, an arcade & more.
Address: 1842 Beach Blvd, Biloxi, MS 39531
Phone: (228) 388-7529  –  Website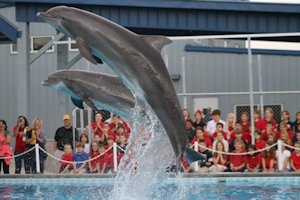 Institute for Marine Mammal Studies
Visitors of all ages will be engaged in a fun, hands-on learning experience that will help them understand and appreciate the species that make our Gulf Coast waters unique. Guests will explore the interactive museum, and encounter sea creatures such as stingrays, sharks, horseshoe crabs, fish, blue crabs, sea stars, and sea urchins in the new Discovery Room touch pools. Visitors will also find a shark tooth in the fossil dig to keep as a souviner. In the Dolphin Presentation, visitors will see our Bottlenose Dolphins work with their trainers and interact with other guests.
Address: 10801 Dolphin Ln, Gulfport, MS 39503
Phone: (228) 896-9182  – Website
Lynn Meadows Discovery Center
Children's museum in a circa-1916 former school with interactive exhibits, outdoor play area & more. Lynn Meadows Discovery Center is dedicated to inspiring children, families and communities through the arts, interactive educational experiences and exploration.
Address: 246 Dolan Ave, Gulfport, MS 39507
Phone: (228) 897-6039  –  Website
L & N Historic Train Depot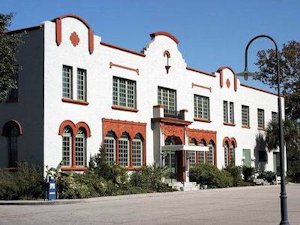 The beautiful Bay St. Louis train depot, built in 1928, houses the visitors center, where visitors can get information about businesses and attractions in the Bay St. Louis area, the Mardi Gras Museum, featuring beautiful Mardi Gras costumes and the Alice Moseley Folk Art and Antique Museum. The depot itself is set in a park like setting featuring many Live Oak trees, picnic tables, benches, and a walking path. Duck food can be purchased in the visitor center and many ducks and geese are waiting to be fed at the duck pond on the depot grounds. There is a lot to do and enjoy at the depot and to learn the history of this building and of the difficulties experienced in earlier times maintaining a railroad across the nearby Honey Island Swamp. The Alice Moseley Museum is an entertainment venue as much as it is a Museum and visitors to see Miss Alice usually leave the Museum with a smile on their face and a love of Alice Moseley in their hearts.
Address: 1928 Depot Way, Bay Saint Louis
Phone: 228-463-9222  –  Video Tour
Mississippi Coast Model Railroad Museum
The museum is the home of the largest LEGO(R) railroad display in Mississippi, multiple scale model train layouts, elevated and ground level G scale trains, interactive layouts for kids to operate and enjoy, outdoor garden displays, and multiple riding trains! There are also many fun, themed outdoor railroad displays to enjoy like Jurassic Park and Futurama!
Address: 504 Pass Rd, Gulfport
Phone: 228-284-5731  |  Website
Bananas Mini-Golf & Arcade
Banana's Mini-Golf is an outdoor, tropical, 18 hole miniature golf course that offers a challenging yet relaxing atmosphere.
Address: 2251 East Pass Road, Gulfport
Phone: (228) 206-3015  |  Website
Cinemark 16 – Gulfport Movie Theater
Chain of movie theaters, some with multiple screens, stadium seats & self-service ticketing kiosks.
Located in: Crossroads Center
Address: 15171 Crossroads Pkwy, Gulfport
Phone: (228) 539-5294  |  Website
Beacon Theatre – Waveland Movie Theater
Located at 310 HWY 90, Corner of Choctaw Plaza Blvd. and McLaurin St. in Waveland, Behind McDonald's
Address: 310 US-90, Waveland, MS 39576
Phone: (228) 342-1346  |  Website
Beauvoir and the Jefferson Davis Presidential Library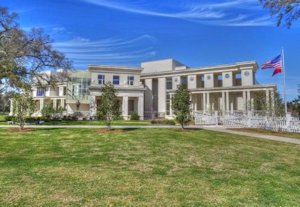 Beauvoir and the Jefferson Davis Presidential Library present a rich history of Jefferson Davis and his last home on a stunning 51 acre expanse on the Gulf Coast. The Beauvoir mansion is restored to 1889 when Davis lived in this house. Both the Library Pavilion and Hayes Cottages have been replicated as well as a cistern behind Beauvoir mansion.
The new Jefferson Davis Presidential Library and museum is open. The grounds also include a Confederate Cemetery where the Tomb of the Unknown Confederate Soldier and the grave of Jefferson Davis' father, Samuel, are located. Varina Davis' Rose Garden has been restored.
Daily Summer Hours: 8am to 6pm, Winter Hours: 9am to 5pm – Admission Charged.
Address: 2244 Beach Boulevard. Biloxi, MS 39531
Phone: (228) 388-4400  –  Website
Ohr-O'Keefe Museum Of Art
The Ohr-O'Keefe Museum Of Art is a non-profit art museum located in Biloxi dedicated to the ceramics of George E. Ohr, the self-proclaimed "Mad Potter of Biloxi"
Address: 386 Beach Blvd, Biloxi, MS 39530
Phone: (228) 374-5547 | Website
---
Pass Christian Restaurants...
The area has a wide selection of food, especially fresh seafood. If you head down to the beach toward Gulfport, you will find lots of restaurants to choose from. Every palate can find something to please them, with offerings.
Pass Christian Yacht Club
Located at the Southern end of Market Street in Pass Christian. The superb location offers the best views of sunsets, moon rises and the Gulf of Mexico of any yacht club on the Coast. Overlooking the Mississippi Sound in Pass Christian, MS, our 10,000 square-foot clubhouse features a large restaurant and bar with panoramic views of the water.
Location: Pass Christian Yacht Club is located at 120 Market Street at the southeast corner of the old harbor.
Phone: 228-452-2571  –  Website
Shaggy's Pass Harbor
Located in the heart of the scenic Pass Christian Harbor is the original Shaggy's restaurant. The fun, island-style atmosphere is a favorite among locals and vacationers. You'll enjoy the delicious food, great fun, wonderful water views.
Address: 120 South Hiern Avenue, Pass Christian
Phone: 228-452-9939  –  Website
Chandeleur Brewing Company
located downtown Gulfport, is a spacious and laid back spot that accommodates 141 people. With 12 options on tap at all times there will never be a shortage of fantastic brews. Golden Tee, the ring game, giant Jenga, ping pong, corn hole, and darts are also available to help make your visit a memorable one. With multiple giant windows separating the tap room from the brewer
Address: 2711 14th St, Gulfport
228-239-9403  –  Website
Gulf Coast Casinos
Many people come to the Coast to visit the casinos. With 12 casinos, most of which is located in Biloxi. Offering 24-hour gaming, nonstop entertainment and perfect places to wine and dine. The closest casinos near Pass Christian are in Gulfport and Bay St Louis
Island View Casino Resort
Bright resort featuring a casino, a spa & direct beach access, along with 11 eateries & bars.
Address: 3300 W Beach Blvd, Gulfport  –  Website
Treasure Bay Casino
1980 Beach Blvd, Biloxi  –  Website
Hollywood Casino
711 Hollywood Blvd, Bay St Louis  –  Website
Silver Slipper Casino
Grand waterfront casino with 24/7 table games, slots & poker plus live entertainment & dining.
Address: 5000 S Beach Blvd, Bay St Louis. – Website